The World Can't Wait to Love Johnny Depp in Dark Shadows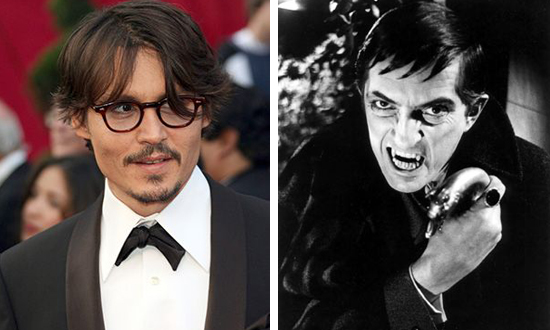 By now it's a given that Tim Burton is going to spend the rest of his life making movies based on stuff he was wild about as a kid. Offbeat cultural touchstones from the '60s cry out to him, and he transforms them into offbeat cultural touchstones of today. Batman, Planet of the Apes, martians, B-movies, Vincent Price — Burton may be the first great American director who owes his entire career to his parents' inability to make him go play outside.
His lifelong status as a miserably lonely outsider is a lot more palatable — romantic, even — thanks to his frequent use of Johnny Depp as his stand-in. Being super-hot confers all sorts of special powers on would-be outsiders, and for mainstream audiences, Depp makes life on the fringe seem exotic and sexy, a nerd-by-proxy. From the moment he threw on a tangled black weave and spoke in Burton's hesitant stammer for Edward Scissorhands, the whole world wanted to adopt him. (If Burton himself showed up at your house, you'd probably glance through the peephole and pretend not to be home.)
Perhaps upset that his own innate geekiness is not being taken
seriously enough, Depp has joined forces with Burton for what will be
their eighth attempt at public identity-meld, the film adaptation of Dark Shadows. This is more than a casting announcement, for us it's a tiny portal to Depp's private world:
Depp says it will fulfill his lifelong dream of playing vampire
Barnabas Collins; apparently the actor was a childhood devotee of the
supernaturally-inclined soap opera that spanned over 1,200 episodes beginning in the mid-'60s. Who knows, if only he'd had the technology, little Johnny could have written Dark Shadows fan-fiction or making his own Barnabas trading cards and video shrines. At the very least, he probably had the Barnabas Collins board game. Did he geek out over the show's revival in the early '90s? Does he own all the DVDs?
Horror fans ought to take pride in the adaptation (how many other
soap operas do you see being made into feature films? In your face, General Hospital!) but the show's ever-growing cult following are particularly thrilled at the casting news, marveling in their message-boards at the eerie rightness of the casting, pointing out that Depp is almost exactly the same age that Jonathan Frid was when he originated the role.
Even though this sounds like good news, let's hope that Burton realizes wish-fulfillment casting is a dangerous game. After all,
Wikipedia reports that Madonna's also a major Dark Shadows fan, and it shouldn't have to be the public's job to step up and convince her that being a vampire in real life is sufficient.
We should be proud of Depp for coming out as a man who can admit to
loving his soaps. Since the actor's nerdy devotion is sheathed in
celebrity hotness, however, I predict a major war between old-school
fans of the show and those who only began feverishly updating their
Netflix-queue after his involvement was announced. It's no contest
though — even if you start watching at least one episode a day, every
day, you still probably won't be able to chew through the entire series
before the movie hits theaters. Don't give up though — Considering Dark Shadows'
tradition of resurfacing every few decades, you'll be all set to pick
apart the 2025 version starring Lourdes Ciccone and Jaden Smith.
Tracking down interviews with horror icons has provided Tom Blunt
with a healthy alternative to obsessively spying on old classmates via
Facebook. More interviews abound at his site hermitosis.
Read More