The Warrior, a Bit of Southeast Asian Sleaze, Now on DVD (Plus Two Aussie Fright Flicks)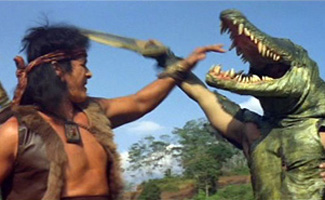 Forget WALL-E and the Sisterhood of Traveling Pants 2. The big news in DVDs this week is the release of Indonesian action-horror-black magic-nationalist war cry, The Warrior, long considered the holy grail of unseen Southeast Asian sleaze. For the uninitiated, a bit of history first: Desperate to protect their movie industry from being overrun by foreign imports back in 1973, Indonesia's authoritarian government passed a law requiring film distributors to produce one local film for every three foreign imports they brought into the country. Predictably, producers soon learned that local working class audiences wanted sex, violence and horror in copious quantities. Their sales agents realized that the only Indonesian productions anyone overseas wanted were sex, action and horror flicks. And so, in a fit of pragmatism, filmmakers were given the freedom to wallow in shocking amounts of blood and skin for a Muslim country.
The Warrior was the first of three movies that were showcases for local super-star Barry Prima, playing 19th century nationalist hero Jaka Sembung. Set in the 1820's, Sembung is leading a rent strike against the local Dutch governor, Van Schramm, when he's arrested and put to work in the mines. But the movie's producers abandon any effort to deliver a scholarly meditation on Indonesian colonialism and instead turn out a rabble-rousing flick full of black magic, gruesome back woods surgery and endless kung fu fights. Turns out that Sembung is tough to take down, so a variety of supernatural warriors and evil wizards are recruited by the villainous Van Schramm to take him out. Sembung is beaten, burned, tortured, crucified, turned into a pig, has the eyes of a dead girl stuffed into his head after he's blinded, and winds up taking down a wizard by chopping him into pieces over and over again and then burning the chunks.
The special effects aren't especially convincing, but they're delivered with plenty of gusto and gallons of gore. The downbeat ending sees an evil daddy skewered like a shish kebab in front of his horrified daughter; the colonial invaders are pulped to raw meat beneath the fists of Jaka Sembung. Dubbed into English (as it was on its original release), the movie's star, Barry Prima, comes across a bit stiff, but he glowers and scowls with great conviction and his devotion to action (he idolized Bruce Lee) comes across well as he beats down dozens of dastardly Dutch. The Warrior was followed by two sequels, The Warrior Against the Blind Swordsman and The Warrior and the Ninja, but neither are all that exciting and the original still stands alone as one of the most entertaining early '80s Southeast Asian horror/action flick you'll ever see.
Australian Horror
There's something about the Pacific Rim that brings out the weirdest
instincts in filmmakers, and Australia has turned out its fair share of
whacked-out horror from Razorback (killer pig on the loose) to Turkey Shoot
(near-future where people are chopped up for sport) most of which are
celebrated in the hotly anticipated, Oz-ploitation documentary Not Quite Hollywood, which is slated for a release later this year. In the meantime, small DVD labels like Synapse are re-releasing classics of the Aussie exploitation genre like Thirst.
Thirst
centers on the descendant of a famous vampire who, disappointingly,
doesn't want to suck blood. Instead, she's happy to eat normal food and
make love to her hairy '70s love god in front of the fire… but the
local vampires want her to embrace her heritage and join the board of
their corporation which runs a chain of dairies devoted to keeping
bloodsuckers in delicious hemoglobin extracted from compliant "blood
cows" (read: Humans). Although not quite as interesting as it should
be, Thirst's take on vampirism as a corporate endeavor with
board meetings, research labs and the mass production of drinkable
blood is downright inspired and it has more going for it than a lot of
recent vampire movies.
Far more successful is the thriller Patrick,
the 1978 landmark of Australian horror, all the more remarkable because
it's basically set in one room and was made for under half a million
bucks. When a young nurse arrives for her new job at a clinic and is
told by the head matron, "We tend to attract certain types. Lesbians,
nymphomaniacs, enema specialists," you know you're in good hands, and
the script continues to deliver scrumptious sleaze in spades.
The
new nurse becomes the caretaker of Patrick, a pop-eyed, uni-browed
young man who has been in a coma for three years. As her private life
heats up (crazy ex-husband, hunky young doctor) Patrick unleashes his
psychic powers, attacking her boyfriends with psychokinesis and
revealing, through various murderous gambits, that he's in love with
her. A bit slow-moving, Patrick's literate script keeps you engaged
(Patrick is memorably described as "160 pounds of limp meat hanging off
a comatose brain" in one of the movie's more purple passages) and the
performances are excellent. As iconic in Australia as Brian De Palma's Carrie was in the U.S., it's as fresh today as it ever was.
Grady Hendrix is one of the founders and programmers of the New York Asian Film Festival. He writes about Asian film for Variety at Kaiju Shakedown and should have found something better to do with his life by now.
Read More