Spielberg SciFi Sequels That Never Were (And One That Never Should Have Been)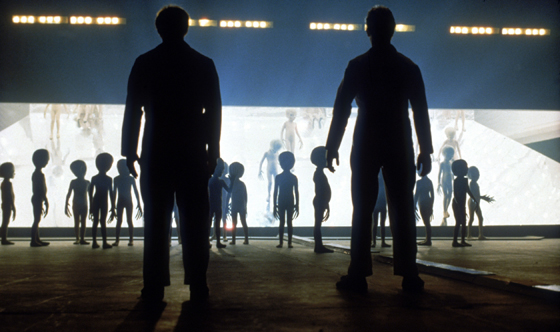 Along with George "I never met a past work I couldn't retread" Lucas, Spielberg is the king of sequels. Most of his major blockbusters have been sequel-ized in some form, but a select few of his scifi movies ceased after part one, even when they were begging for a follow-up. But more isn't always better: Let's take a look at these films, which prove definitively that sometimes the best stories end with Part I, and going further can only lead to disaster (or in one case, a certain cuddly extraterrestrial).
Close Encounters of the Third Kind
During the late '70s, Columbia Pictures was aching for a sequel to Spielberg's breakthrough scifi epic, so the filmmaker developed the horror project Watch the Skies (the original title for Close Encounters), about a group of aliens who terrorize a Kentucky family. Spielberg worked with screenwriter John Sayles ( Piranha ) and make-up guru Rick Baker (Thriller) for several years on the project — later retitled Night Skies for legal reasons — but eventually soured on the idea of doing another violent film after Raiders of the Lost Ark . Turning to screenwriter Melissa Mathison (then Harrison Ford's girlfriend), Spielberg narrowed in on Night Skies' sub-plot about a young boy's relationship with a benevolent alien; thus E.T. was born. He would revisit Close Encounters for the 1980 special edition, but Night Skies was sadly never realized.
E.T.
Speaking of everyone's favorite alien, Mathison and Spielberg actually did plan a follow-up for their candy-loving extraterrestrial. Much like Night Skies, the unfortunately titled E.T.: Nocturnal Fears was to have upped the creep factor of its predecessor, making poor E.T. rescue Elliot from the clutches of evil aliens. Thankfully, Spielberg chose not to tamper with the legacy of his beloved classic, and left E.T. home alone. Well, at least until the 20th anniversary version, when he replaced the policeman's guns with walkie-talkies.
War of the Worlds
Yes, it's a remake, but that's never stopped Hollywood before. ( Nutty Professor II , please stand up.) 2005's War of the Worlds was a huge moneymaker for both Spielberg and Tom Cruise, so it would stand to reason that another war would be in the works. But no reteaming was attempted — perhaps due to tensions that arose between the two over Tom's couch-jumping antics. But that doesn't mean no one else can pick up this ball and run with it: The 2008 direct-to-DVD cash-in War of the Worlds 2: The Next Wave features the combined star power of C.Thomas Howell and Christopher "Kid" Reid, and centers around a second invasion that inspires mankind to take the fight to the aliens' home world. C. Thomas himself takes over the directing reigns for this gem, which leaves you wondering how Spielberg could have passed it up.
For a complete schedule of Close Encounters of the Third Kind on AMC, click here.
Read More