Scott Sigler – Monster Hunter Tournament: The Final Four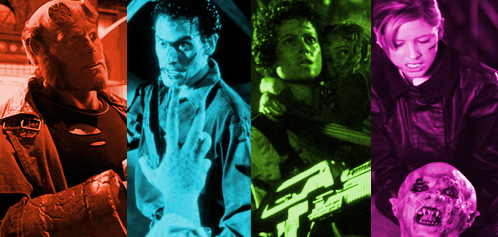 In any tournament, the Final Four is a round of celebration. If you made it to this point, you're good and you know it. Some contestants are just happy to have made it that far, others see their semifinal match as simply an obstacle on the way to a destined, glorious championship. We started with sixteen of the greatest monster hunters in the history of movies and TV, and now twelve of those are off the island (hopefully ramping up for a sequel or a remake).
As for the four that remain, a quartet of the most effective monster hunters in the known universe, let's take a look at how they got here:
Buffy Summers (No. 1) vs. Ellen Ripley (No. 5)
If you want some versatility, it's tough to beat Buffy. She slays all
kinds of easily-bested beasties. Thanks to the endless online army of
Buffy fangirls and fanboys, she knocked out a game River Tam from
Firefly/ Serenity , then bitch-slapped her old beau, Angel, with more than four times the votes to move into
the Final Four.
Ripley"s monster-fighting prowess brought her an easy first-round win against Blade, and a minor second-round upset against No. 4 seed Van Helsing. The star of Alien , Aliens , Alien 3 and Alien Resurrection , Ripley took the wife-beater/machine gun look to heights not seen since Rambo took up residence in the local trailer park.
But let's be honest here, folks. Ripley has about as much chance of making it past this encounter as grandma's turkey has of making it past the Thanksgiving family dinner in one piece. Sure, even if Uncle Jimmy doesn't show up and take both legs for himself (the selfish bastard), that holiday bird is goin' down.
Ash (No. 2) vs. Hellboy (No. 3)
You
know how in the movies, when the hero looks like he's about done for,
he finds some hidden reserve of strength and comes back to whip monster
ass? Well that's what happened to No. 3 seed Hellboy, who held off a
total dogfight against the Ghostbusters. The match was right down to
the wire, with both sides exchanging the lead a half-dozen times. The
No. 6 seeded Ghostbusters almost pulled off the upset of the decade,
but ultimately, they couldn't get past Big Red.
Hellboy opened up with a solid thumping of Alice from the Resident Evil franchise, and now faces the big-hitting No. 2 seed Ash. Ash opened up the tournament with a three-to-one vote margin over Underworld 's
Selene in Round Two. Seems the monster-slaying hottie's leather catsuit
was no match for a chainsaw-hand. Hail to the King, baby, because the
star of Evil Dead , Evil Dead II and Army of Darkness is movin' on up.
This
match
is a prime opportunity for an upset. Had their Round Two
votes been paired head to head, Hellboy would have only trailed Ashy by
only 30 votes. In the world of professional monster
hunter tournaments, that's peanuts, people. Considering that Hellboy is
still riding high from his Golden Army DVD release, this matchup is up
for grabs.
Let's Get It On!
The
semifinal voting is open now. Feel free to spout your opinions in the
comments, and to vote, click the little "Vote in Poll" button below.

Scott Sigler writes tales of hard-science horror, then gives them away as free audiobooks at www.scottsigler.com. His new novel, Contagious,
hits bookstores on December 30 and is currently available for
pre-order. If you don't agree with what Scott says in this blog, please
email him scott@scottsigler.com. Please include all relevant personal
information, such as your address and what times you are not home, so
Scott can come visit and show you his world famous "Chicken Scissors."
Read More