Rocky Was No Underdog When It Came to the Fun Stuff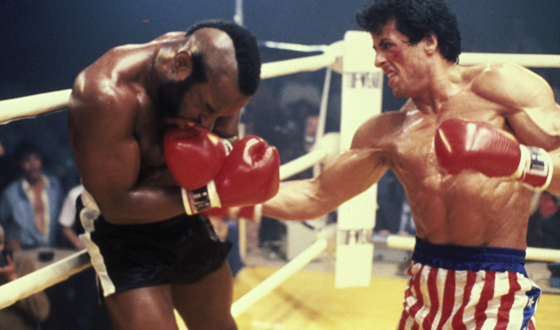 To children of the 1980s, Rocky existed in the same tough-guy league as Mr. T and Chuck Norris: a larger-than-life hero who leaped from the screen into their homes via a bevy of fun stuff. As long-running franchises often do, the Rocky films grew broader and
more kid-friendly as they chugged along, allowing the beloved pugilist to be spun off into video games, toys, eraser sets and more. This was a common practice during the '80s; the colossal success of Star Wars merchandise paved the way for even remotely popular action films to inspire toys and other collectibles. Still, it's interesting to note that a franchise which started out as a mature character piece in 1976 with Rocky had morphed into a full-on kid-friendly merchandising machine by 1982.
Stallone and United Artists realized the youth appeal of the character around the time of Rocky III, when 1983's Rocky Super Action Boxing was released for the ColecoVision home video game system. The growing popularity of Rocky's opponents in the third installment — a certain mohawked tough guy by the name of Mr. T and the inventor of "Hulkamania" himself, Hulk Hogan — certainly helped Stallone to reach the kids. Phoenix Toys and Appleworks produced a line of Rocky III toys, giving us one of the few Carl Weathers figures in existence. (Sadly, Action Jackson toys never materialized.) Mr. T and Hogan's fame exploded after Rocky III, and Stallone joined them as living action figures.
Rocky IV (1985) — with its broad storyline and cartoonish Russian bad guy — further cemented Stallone's appeal with kids, and helped him market the decidedly R-rated Rambo as the G.I. Joe clone Rambo and the Forces of Freedom for a toy line and cartoon. Ironically, it was Rocky who was offered the ultimate '80s honor — being immortalized as a G.I. Joe figure. Hasbro wanted to add Rocky to the G.I. Joe ranks in 1987, where he would join fellow real-life heroes Sgt. Slaughter and William "The Refrigerator" Perry. (G.I. Joe was nothing if not a motley crew.) The toy company went so far as to produce action-figure prototypes and packaging artwork before Stallone decided to go with rival Coleco for his Rambo line, thus preventing Rocky from taking on Cobra forces with his powerful fists. (Big Boa, Rocky's rival on Cobra, was released however — complete with tiny boxing gloves.)
Rocky products continue to be popular with collectors — Jakks Pacific recently released a line of fully poseable action figures. What really makes Rocky unique is that the movie's genre — the inspirational sports movie — doesn't usually lend itself to merchandising. (Poor Rudy never got his own action figure.) And the glut of movie-related merchandise over the years has lead to more than one franchise languishing on toy store shelves ( Waterworld , anyone?). Today, studios likely wouldn't even consider marketing a boxing movie to kids. With movies becoming more and more niche, there is less crossover between the adult and youth markets. But those of us who grew up in the '80s remember a time when our heroes could be as down-to-earth as an underdog boxer from Philly. So down to earth, he could be in our toy boxes.
For a complete schedule of the Rocky films on AMC, click here.
Are you a real Rocky fan? Take our Ultimate Rocky Fan quiz.
Read More