Roald Dahl Dreams Up a World of Pure Imagination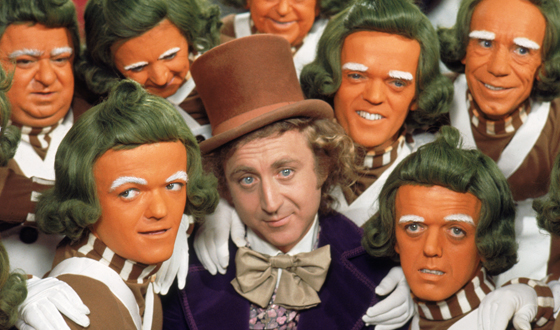 Beloved children's author Roald Dahl was born in 1916 in Llandaff, South Wales. His parents, who were from Norway, wanted him to get a British education, so they sent him to Derbyshire, where he was a successful athlete at the Repton School. During his time there, the nearby Cadbury chocolate factory would occasionally send boxes of new chocolates to the school to be tested by the students. Dahl sometimes daydreamed that he would invent a new chocolate bar that would impress Mr. Cadbury himself, a notion that would one day inspire him to write his third book for children, Charlie and the Chocolate Factory.
When World War II broke out, Dahl joined for the Royal Air Force,
flying many missions over East Africa before being invalided out in
1942. In the later years of the war, the Foreign Office assigned him to
Washington, where he worked as a spy for British Security Coordination,
the same organization that spawned Bond author Ian Fleming. While in
D.C., Dahl wrote his first children's book, about little creatures
called "gremlins" who lived in fighter plane engines and caused them to
stall at the worst possible times. Eleanor Roosevelt liked The Gremlins
so much that she invited Dahl to the White House, where he became
friends with President Franklin Roosevelt. Disney tried to make the
book into a movie, but couldn't find a way to make creatures that
caused Allied planes to crash seem lovable. Although it would be nearly
two decades before he published another book for children, Dahl went on
to write nineteen children's books, as well as two adult novels, two
autobiographies and dozens of short stories.
Dahl was a man of enormous height — 6′ 6″ — which was the basis of one of his books, The BFG,
or "Big Friendly Giant." Many feel that 'Willy Wonka' also strongly
resembles Dahl in his speech patterns and attitudes. When Dahl wrote Charlie and the Chocolate Factory
in 1962, he first tested it as it as a bedtime story for his own
children, Olivia, Tessa and Theo. As a parent, he felt that stories
meant to be read aloud to children ought to be more fun for adults. In Charlie and the Chocolate Factory,
his commentary on spoiled children, greed and television were all
aspects Dahl felt adults would appreciate. He also used puns he felt
most adults, but few children, would get — for example, Wonka's
factory makes 'buttergin' as well as 'butterscotch.'
On the other hand, Dahl believed that the secret formula for success
in children's writing was "conspiring with children against adults." He
said, "It's the path to their affections. It may be simplistic, but it
is the way. Parents and schoolteachers are the enemy. The adult is the
enemy of the child — because of the awful process of civilizing this
thing that is born as an animal with no manners, no moral sense at all."
The DVD_TV enhanced version of Willy Wonka and the Chocolate Factory airs Saturday, Dec. 6 at 8PM | 7C. Click here for the complete schedule .
Sources:
William H. Honan, "Roald Dahl, Writer, 74, Is Dead," New York Times, 11/24/90
Jeremy Treglown, Roald Dahl: A Biography, Faber & Faber, 1994
Gary Dexter, "How Did Celebrated Books Get Their Names?" Sunday Telegraph London, 5/8/05
Britt Peterson, "Special Relationship: the British Spies Who Slept Their Way Through Washington During World War II," Washington Monthly, 8/1/08
Read More