Opening Night Finds Kidman and Jackman on Opposite Sides for Australia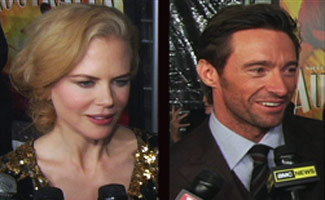 Aussies invade Hollywood as Nicole Kidman, Hugh Jackman and Baz Luhrmann attend the opening night of Australia. AMC News correspondent Jacob Soboroff gets the director to issue an open invite to join him for Thanksgiving Down Under, while Jackman and Kidman each see the movie differently. He connects to the political part; she, to the personal.

Want more? Click here for additional AMC News videos.
Gratitude seemed to be the theme of the night at the red carpet premiere of Baz Luhrmann's Australia. Star Nicole Kidman expressed thanks to the film for helping to produce her baby with Keith Urban. While her costar Hugh Jackman told our video crew that the native Aborigines back home were grateful to finally have their story told on the big screen. Even the director expressed his love of Thanksgiving, extending an invitation to all Americans to celebrate it in the Sunburnt Country. Hey, thanks, Baz!
Read More