Need A Million Dollars? Don't Go Looking up Haunted Hill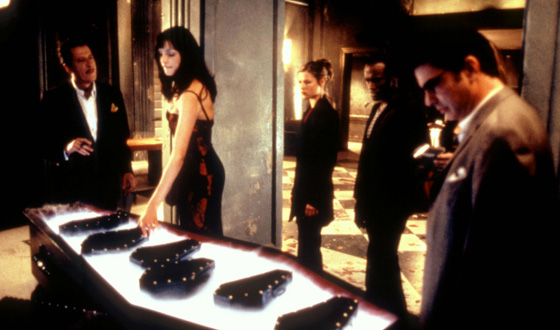 Haunted Hill" width="560″/>

In movies, there's a longstanding habit of dumb people being offered lots of money to do stupid things. And when it comes to fright flicks, it's rare that such a proposition will include anything carefree like racing across the country ( It's a Mad, Mad, Mad, Mad World ) or spending $30 million to inherit $300 million more ( Brewster's Millions ). Even rarer in horror are the enticements that don't involve asking suckers to spend the night.
It's a rich (no pun intended) tradition for horror, going all the way back to The House on Haunted Hill (1958) in which Vincent Price invited five strangers to spend one night in a haunted house for $10,000. By 1999's glossy remake , the sum had ballooned to $1 million a head, offered up by amusement park mogul (Geoffrey Rush). In each case, the lure proves irresistible and needless to say, not all of them survive.
Still, theirs is not a lesson easily learned: By the the 2007 sequel, Return to House on Haunted Hill , the sister of one of remake's original victims returns to the scene in search of a priceless artifact — not a million dollars, but promising financial gain nevertheless. Evidently, when you see green you're willing to see ghosts as well; the Haunted Hill flicks aren't the only ones to play on this formula.
In The Legend of Hell House (1973), a millionaire hires spiritualists to check out his "Mount Everest of haunted houses." In The House on Skull Mountain (1974), the heirs to a wealthy man's fortune gather for the reading of his will, with predictably spooky results. Even Halloween: Resurrection (2002) dips into the house/money/scares setup, collecting six cash-strapped students for one night of Internet broadcast entertainment in Michael Myers' childhood home. Guess which William Shatner-masked monster doesn't like this idea?
No matter the ruse, the result is always the same: Bloody. So if you should find yourself in a situation where an eccentric millionaire offers a ridiculous sum to spend one night in a eerie mansion, here's a helpful tip: Shoot him, take the money, and run like the f___ing wind.
To check out a full schedule of House on Haunted Hill, and Return to House on Haunted Hill, click here.
Read More