Master Monster Hunter Tournament – Round One Ends; Quarterfinals Begin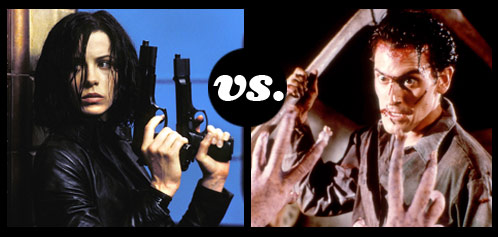 The first round of the Master Monster Hunter Tournament is in the books. The ink is dry on the tournament bracket, the blood has been mopped up and the vampire dust has been swept into neat piles. Out of our Sweet Sixteen competitors, half are relegated to the webpages of history, and we are left with the Great Eight.
There was a notable lack of surprises in Round One. No major upsets, no big names slayed by little names. The only potential shocker was a run by River Tam of Firefly and Serenity , who took an early lead against Buffy Summers. That's right, the Buffy Summers. Then, of course, the Whedonites came in droves and put an end to that wee little rebellion. Those Whedonites were confused at first, startled and a bit frightened by two Whedon hotties head-to-head. "Fix!" they screamed. "We see what you're trying to pull!" they shouted. "Rabble-Rabble!" they called (but only the ones who had been watching a South Park marathon).
No, my poor oppression-minded Whedon fans, your delusions of persecution are sorely misguided. River brought out very few votes in the nomination round. Therefore, she got the lowest seed, and therefore, she went up against the wrecking ball that is Buffy. The Buffster rolled up the highest Round One total: At the time of this post, she had more than 1,900 votes — twice that of the next-highest vote-getter, Ash of The Evil Dead franchise. (And in case you're wondering, those Frog brothers didn't even crack 300.)
The first round ran surprisingly free of drama or controversy (not counting the Whedonites' collective persecution complex), but Round Two is guaranteed to create a serious dust-up. Let's take a peek at these most awesome matchups. Winners move on, losers get flushed.
Buffy (No. 1) vs. Angel (No. 9)
Oh, snap! Whedonites,
everyone is out to get you! Everyone is out to create unfair
competition between your beloved, emotional whoop-ass monster slayers!
The former lovers pit their slaying skills against each other. You will
be the judge as to which one continues on.
Van Helsing (No. 4) vs. Ripley (No. 5)
Two
monster-mashing legends go head to head in what could be the first
Round Two upset. One slays aliens, one slays just about everything
else. Who will advance to the Final Four?
Ash (No. 2) vs. Selene (No. 7)
In
the early going, Ash looked unbeatable, likely to meet Buffy in the
finals and give her a run for her moolah. But Selene kicked so much
Doctor Who tail, the Doctor will be feeling it in reruns for many
seasons to come. At the time of this post, she earned 867 votes in her
win, while Ash was pushing past the 900 mark. In sports parlance,
that's called "within striking distance." Watch yourself, Ash, there's
a leather-clad hottie out for your good hand.
Hellboy (No. 3) vs. Ghostbusters (No. 11)
This
one is a total toss-up. The sixth-seeded Ghostbusters have a chance to
notch a major upset against Big Red. Peter and the Gang drew just as
many votes in their win over Mulder and Scully as Hellboy did in his
butt-kicking of Alice from Resident Evil. Immortality is in your grasp, Egon, so get on that fireman's pole and get the job done.
Let's Get It On!
Eight
fighters enter, four fighters leave. Sure, it's an easy line to steal,
but give me Tina Turner in a post-apocolyptic evening gown any day,
pal. The Final Four is next, but it's up to you, dear reader, to
determine who those four will be.

Scott Sigler writes tales of hard-science horror, then gives them away as free audiobooks at www.scottsigler.com. His new novel, Contagious,
hits bookstores on December 30 and is currently available for
pre-order. If you don't agree with what Scott says in this blog, please
email him scott@scottsigler.com. Please include all relevant personal
information, such as your address and what times you are not home, so
Scott can come visit and show you his world famous "Chicken Scissors."
Read More