Master Monster Hunter Tournament – Buffy (No. 1) vs. River Tam (No. 16)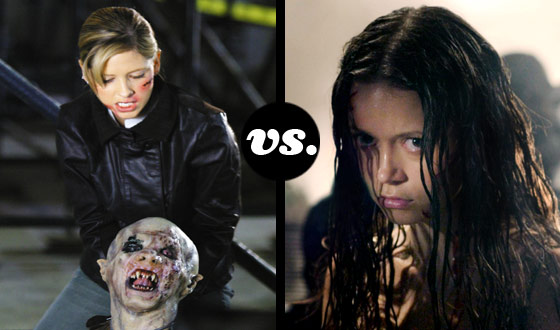 Two Whedon ass-whipping hotties enter, one Whedon ass-whipping hottie will remain.
When it comes to hunting monsters, no one wears the heavyweight title
belt around a more slender waist than Miss Buffy Summers, aka, Buffy
the Vampire Slayer. Stephen Hawking once wrote an article on "Buffy
Math," in which he postulated that if you stacked all of Buffy's
victims head-to-feet the line of corpses would reach from here to
Jupiter or something like that. I don't know the fractal differential
here, OK? What I do know is that it would be one damn long line.
River Tam is a newcomer with a big cult following, and deservedly so — she can slaughter Reavers bare-handed or with weapons, and do so with dance-like grace that would make Muhammad Ali say, "Damn, that girl's got moves." She's an up-and-comer, this River Tam, and we will see more of her as Joss Whedon (hopefully) angles for more Firefly action. But being the newcomer, the rookie, that carries a steep price tag — and that means going toe-to-toe with a veteran in her prime.
So there you go, dear reader — River Tam vs. Buffy Summers! Your votes decide the winner. River, are you ready? Buffy are you ready? Let's get it on!

Read More