Mary Robinette Kowal – Why Do Fantasy Movies Always Kill the Parents?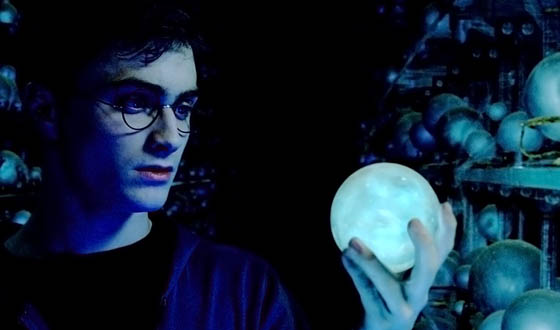 If you're like most Americans, you spent yesterday saturated in turkey and surrounded by family. This is the season for family, and as much as we might love our families, there are will be times over the next month when we'll think that life would be so much easier if we didn't have to deal with them. But think about what would happen if they actually weren't around. There's a curious tendency for heroes in fantasy movies to be orphaned, or at least separated from their parents by some great calamity. Why is it so hard for fantasy heroes to hold onto their parents? Well, there are actually several different benefits to orphaning the young lad or lady. Today we'll take a look at what happens in fantasy when you take the parents out of the picture.

James and the Giant Peach (1996)
When trouble rears its head, you'd expect a young boy to turn to his parents for help. But taking the parents out of the equation, as director Henry Selick does in this Roald Dahl adaptation, removes that safety net. James (Paul Terry) loses his parents at the beginning of the movie after a rhinoceros descends from the clouds to eat them. He gets sent to live with his aunts Spiker (Joanne Lumley) and Sponge (Miriam Margolyes), who are far from supportive. He's lost his safety net, sure. But he's also been given license to break the rules — which allows him to go on his peachy New York adventure. By the end of the movie, James has become fully self-sufficient.
A Series of Unfortunate Events (2004)
The Baudelaire children also lose their parents in freak accident: A fire which destroys their family home. The three siblings are sent to live with their closest living relative, Count Olaf (Jim Carrey), but soon discover that he is a swindler intent on gaining their inheritance. They've lost their parents, but that loss empowers them to become the authority figures themselves: As our three young heroes come to suspect that Count Olaf is behind the death of their parents, they seek to solve the mystery and punish the perpetrator. Being suddenly orphaned is a powerful motivator.
The Princess Bride (1987)
Our orphan in this case is not the main character, though Wesley's (Carey Elwes) parents are curiously absent from the movie. Here we have Inigo Montoya (Mandy Patinkin), the archetype of the vengeful orphan. In countless fantasy flicks, the murder of the hero's parents drives him or her to seek out vengeance. Though few of them state it so boldly, Inigo tells it like it is: "You killed my father, prepare to die." Vengeance is a powerful driving force for heroes, and it gives them a determination that keeps that plot moving forwards.
Pirates of the Caribbean (2003)
Will Turner (Orlando Bloom) carries a gold coin — all he has left from his father. Then he finds out ole' Bootstrap Bill was actually a pirate. Will's internal struggle between loyalty to his father's memory and guilt that Turner Sr. was a criminal lends him a gravitas that male ingenues are often lacking. It also serves as a convenient plot point: Pirates killed his father because of that gold coin. By sending it to Will, he has doomed said pirates to a well-deserved curse. When Will returns the coin, he simultaneously reconciles the memory of his father and secures the movie's happily-ever-after ending. Until the sequel, of course.
Harry Potter (2001)
At the moment, poor Harry (Daniel Radcliffe) is our highest profile orphan. The first chapter begins with Dumbledore (Richard Harris) delivering baby Harry to his aunt and uncle after He Who Must Not Be Named kills Harry's parents. Now why did J.K Rowling feel compelled to do that to such a nice young boy? Well, it gives him the usual lack of safety net and quest for vengeance, but in this case it also adds a particularly magical element: When Harry's mother dies protecting her son, the rules of the Potterverse dictate that Harry is eternally guarded by his mother's love. This becomes an increasingly important plot point as the films unfold — it's very existence shapes the entire conflict and negates the possibility of Harry Potter playing out in any other way. A bummer for Harry, to be sure, but good fun for us.
What other reasons can you think of to orphan a fantasy hero?

Mary Robinette Kowal is the winner of the 2008 John W. Campbell Award for Best New Writer. She is also the art director at Shimmer Magazine and a professional puppeteer. Her column appears every Friday.
Read More