House Review – Godless Hollywood Knows More about Hell Than Zealous Indies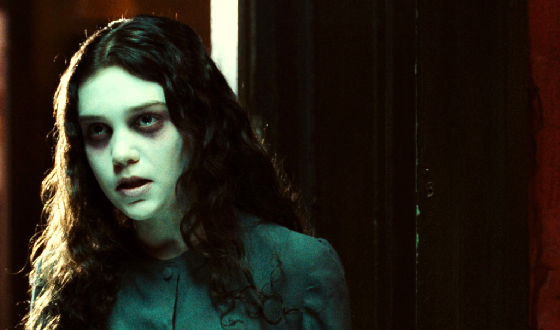 House Review – Godless Hollywood Knows More about Hell Than Zealous Indies" width="560″/>

Who would have thought that the director of Soul Man and Friday the 13th Part III would be capable of turning out a horror pinata like House, full of blood, guts and goofiness hitting you in the face like a shower of candy. Oh, wait, sorry. That's House, the 1986 horror movie, and we're supposed to be talking about House the 2008 horror movie. This kind of confusion is a sign that House '08 has nothing memorable going for it. In fact, it's going to be known for only one thing: It's a Christian horror movie, and that's not a good sign. Hollywood is often referred to as "godless," and thank goodness for that, because the "godly" Christian entertainment industry can't make a decent movie to save its life, and House is just more evidence for the prosecution.
Based on a Christian thriller by Frank E. Peretti and Ted Dekker, House is one of those movies where a bunch of strangers are trapped in a house and must avoid a shadowy stalker and survive until sunrise. They get to the house via the typical contrivances: Missed turn-offs, flat tires, cell phones out of range, sudden rainstorm. Once in the house we discover that too much is never enough for director Robby Henson. First they bump up against a family of menacing caretakers including creepy mom (played by Laverne & Shirley alum Leslie Easterbrook), mentally unhinged son (Lew Temple, a regular in Rob Zombie movies) and psychotic hubby (horror icon Bill Moseley). As if that weren't enough, we also get a menacing sheriff (Michael Madsen) and a masked killer known as the Tin Man, leading one to assume that the Scarecrow and Cowardly Lion are not far behind.
Trapped in the house, the two couples are pursued by the
caretakers (who want to marry and/or kill them) the Tin Man and the
Sheriff. Then it's revealed that the house has ghosts, it can make you
relive your worst memories, there are Satanic worship services held in
the basement on alternate Saturdays, and that the stranded four have
crimes in their own pasts: One killed his dad, two let their daughter
drown, another was molested… . Eventually another shadowy, malevolent
figure shows up, and an evil black gas, like Satanic flatulence, snakes
through the house. Oh, and Jesus appears in the guise of a little girl
whose dead body becomes a holy weapon in the fight against Satan (aka
the Tin Man). It all climaxes in a de rigeur twist ending that — yawn — makes you reconsider everything you've seen before.
Unlike most Christian films, House
doesn't look cheap. It had a big enough budget to hire competent actors
and deploy standard issue, inoffensive camera work and production
design. The soundtrack is larded with Christian rock, most of it
cheesy, but it's the message of the movie that winds up sticking in
your craw. Apparently, sluts who show cleveage, victims of sexual
abuse, wives who prioritize their careers, marital counseling and
psychology are all the Devil's playthings. In a bloodier, less
predictable or even slightly more interesting movie, this might go
unnoticed, but in a paper-thin salvation picture whose R-rating is
entirely undeserved, the preachiness sticks out like a sore thumb. At
the end of the movie, the main characters discover they've been in hell
all along. By the end of this movie you'll feel that way, too.
Grady Hendrix is one of the founders and programmers of the New York Asian Film Festival. He writes about Asian film for Variety at Kaiju Shakedown and should have found something better to do with his life by now.
Read More