House of Usher Review – Roger Corman Launches an American Gothic Tradition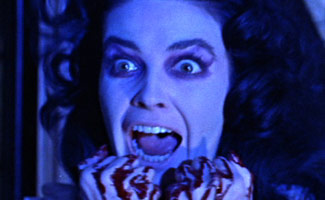 The House of Usher is where it all started. American horror didn't have a Gothic tradition before penny-pinching, sausage grinder director, Roger Corman, begged his money-grubbing, knuckle-dragging bosses at American International Pictures to let him hire horror icon Vincent Price and adapt an Edgar Allan Poe short story. Previously AIP had been churning out low budget cheapies like Attack of the Crab Monsters and Sorority Girl with ten day shooting schedules and budgets hovering around the $100,000 mark. But Corman wanted to try something new: Instead of two black and white flicks shot in ten days, why not do one color flick for $250,000 with a fifteen-day schedule? Corman grabbed Edgar Allan Poe's The Fall of the House of Usher, (because it was in the public domain and because everyone recognized the title) hired scifi scribe Richard Matheson ( The Incredible Shrinking Man ) to churn out the script, and spent $50,000 on Vincent Price. His bosses, Samuel Z. Arkoff and James H. Nicholson objected. "There's no monster!" they cried. "The house is the monster," Corman responded.
What came next? Cobwebs, flickering candles, velvet
smoking jackets, hammy line readings served with extra bacon, and
papier mache sets ready to be chewed. There would be seven more Poe
flicks from AIP ( The Pit and the Pendulum , The Premature Burial , Tales of Terror , The Raven , The Haunted Palace , The Masque of the Red Death , The Tomb of Ligeia ) but there would also be dozens of knock-offs, all distinctly American in flavor and all the children of AIP's Usher. Usher would go on to be one of the highest grossing movies of 1960, a massive success for the bargain basement studio.
Philip Winthrop (Damon) rides through a desolate landscape — a
chunk of the LA hills, scorched by forest fires and shot on the fly by Corman — and comes to the home of the Ushers,
determined to rescue his fiancee from her suffocating family. There he
meets Roderick Usher (Vincent Price, hair dyed shocking blond) who has
acute senses, a thing for his own sister and a grudge against his
family's poisoned bloodline. The speech Price delivers in the portrait
gallery, raving about the history of the Ushers being a history of
savage degradations, more than earns him his salary. As the
long-suffering man servant Bristol (Harry Ellerbee) mewls, "He's highly
overwrought."
Madeline Usher (Myrna Fahey) is desperate to get
away from the crumbling family home, and who can blame her? Crammed
full of tchotchkes, bell pulls and ugly tapestries, it's the kind of
musty dump that feels like a moth-eaten historical display at the local
museum. Instead of congratulating his sis, Roderick Usher opposes the
union of the two lovers because the poison of the Ushers flows in her
veins… and he has her buried alive. "Evil is not just a word! It is a
reality!" he screams. The slight story is already stretched to
near-breaking at 70 minutes, but in the final ten, we get shrieking
climax piled on top of shrieking climax until they all go down in a
sweaty pile-up of fake fire, creaky matte paintings, necrophilia and
incest.
Usher is a study in what you can do with Vincent
Price, an over-stuffed short story and a couple of interior sets.
Gothic excess has never seemed so excessive as when Corman's cast is
chewing up their lines and letting them ooze out of their mouths like
syrup. Americans at the time were hypnotized by the style of
all-American Gothic excess, a tradition of motion picture ghost story
that they could finally call their own. But they were also fascinated
by the wild perversions hinted at between the lines of the screenplay
as a brother tries to save his sister from marriage to a stranger so
that… what? He could marry her himself? All the talk about poisoned
blood and degradation and harlots is a way of saying "incest" without
really saying it. As Price says at one point, bugging his eyes and
staring into Winthrop's face, "Really? The House of Usher seems normal
to you?" No, absolutely not. And that's why it's such a fun place to
visit.
Watch the full movie on AMCtv.com through Nov. 30.
Grady Hendrix is one of the founders and programmers of the New York Asian Film Festival. He writes about Asian film for Variety at Kaiju Shakedown and should have found something better to do with his life by now.
Read More