Francis Ford Coppola and Steven Spielberg – Yesterday and Today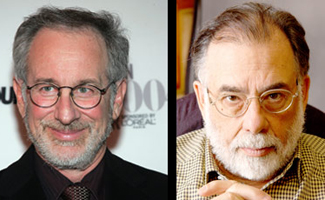 A new group of Hollywood hit-makers came along in the 1970s. Francis Ford Coppola was one and Steven Spielberg was another. Over the years both directors have continued to find success, though in very different ways. More interestingly, the movies they make today bear little resemblance to the ones that made them famous.
Shootout co-host Peter Bart felt the two directors going in different directions early on. "Francis Ford Coppola, I felt, wanted to be a studio chief and he tried three or four times," says Bart. "None of that worked out and now he's decided to make really very small pictures, really personal pictures." On the other hand, Bart says, "Steven really was a more personal filmmaker and now he's ended up running a company."
Coppola's early success came with The Godfather in 1972. Then he followed with The Conversation and The Godfather II, which both competed for Best Picture Oscars in 1974. The Godfather sequel won the award while The Conversation
won the Palme d'Or at the Cannes Film Festival. Where can you go from
there? More hits followed but, as is often the case with those that
find themselves rich overnight, so did financial ruin. Coppola's dream
of changing the studio system failed because One From the Heart went millions over budget and forced him to file for bankruptcy protection.
The director ended up digging himself out by going into the wine,
hotel and restaurant business. "All of these activities really are
united by the fact that they are kind of show business," says Coppola.
"When you have a resort in Guatemala or Belize or in some of these
wonderful countries, you're putting on a show for people… wine is the
same thing. Wine is an experience that goes way beyond the pleasure of
the drink." Now, he uses that money to finance the movies he wants to
make. His first film after a ten-year hiatus, Youth Without Youth , was released last year. "He's definitely into his own head," says Bart. Not that all his movies have to be as commercial as The Godfather
was (how could they?) but can his new, low-budget projects, shot in
exotic locations without any big name American actors, find an American
audience? Thanks to his new found financial freedom, Coppola might not
care. "It's a wonderful feeling. I feel like I'm doing what I wanted to
do when I was 18," the director said in an interview last year.
Spielberg has more control over his projects these days as well, but
he didn't get it from going into the restaurant business. "When he
dabbled in that, he went into the Dive — and the Dive died," recalls
Guber about Spielberg's now-shuttered restaurant. No, he got his movie
making power by starting DreamWorks. Like Coppola, he took time away
from directing to focus his attention on this new venture. "I knew that
if I was really going to front DreamWorks not just with my name but
with my efforts, I was going to have to make big compromise and find
whole years where I didn't direct," says Spielberg. "After Saving Private Ryan I devoted three years to the company, didn't direct a picture for three years after Ryan, and didn't direct a picture for three years after Schindler's List ."
Unlike Coppola, Spielberg's power as a producer and executive hasn't made
his movies smaller. They tend to be big stories with big themes, big
budgets, and all too often, big special effects. While some might say
the new Indiana Jones was fun, most critics found it lacked the
humor and wit of the original. Spielberg is no longer hindered by the
special effects problems he faced making Jaws but does it mean he's making better movies? Can you imagine him making an intimate movie like E.T. now?
What are your favorite movies by Francis Ford Coppola and Steven Spielberg? Comments open below.
Read More