Driving the Story – American Cars in American Movies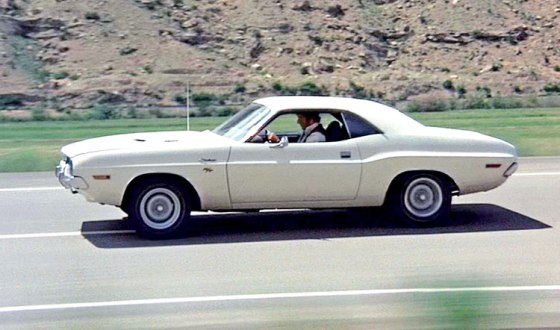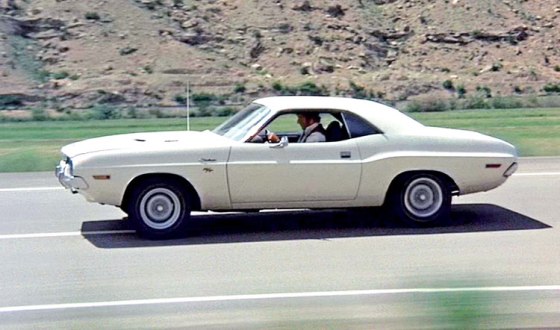 Recent stories about the economic crisis afflicting the "Big Three" automakers — Ford, General Motors and Chrysler — make it sound as if, barring some kind of bailout package, there won't be an American auto industry much longer. Putting aside — and it's a big aside — what this would mean for tens of thousands of jobs, there's also the question of what this would mean for American movies. A number of movies have immortalized specific pieces of Detroit iron; are these movies going to become the most enduring record of a car culture that once roared and raced across the roads and highways of America?

Cars As Stars
There are dozens of movies in my mind — and, I'll wager, in yours — where the big, brawny muscle of the cars makes those inanimate hunks of metal as memorable as any of the flesh-and-blood characters; take Vanishing Point (seen above), the 1971 story of a rogue driver tasked with delivering a 1970 Dodge Charger from Colorado to San Francisco. Vanishing Point's a great driving-and-chase film, and considered such a touchstone that Quentin Tarantino's Death Proof features a similar Charger in its finale, just as Stuntman Mike (Kurt Russell) drives a Chevy Nova with the same license plate number as Steve McQueen's Ford Mustang Fastback in Bullitt . Anyone questioning the idea that a car can be a star needs to think about Bullitt and be honest with themselves: When you think of Bullitt, do you recall the tedious finale showdown at the airport — or McQueen's Mustang tearing through the streets?
But even Detroit's less notable vehicles have been enshrined for fame, or infamy, on screen. The lowly Ford Taurus has gotten its due, as the police vehicles in Robocop and then mocked in David O. Russell's Flirting with Disaster : "Does anybody actually own a white Taurus, or are they all rentals?" But Hollywood has also celebrated even lowlier autos: The infamous Bluesmobile in The Blues Brothers , praised by the deadpan Elwood Blues (Dan Akyroyd) for its "… cop tires, cop suspension and cop motor … a 440 cubic-inch plant …", is a 1970 Dodge Monaco. The Blues Brothers also features footage of what may be the fastest-moving Ford Pinto ever captured on film… although, it should be noted, that's when the car's in free-fall, propelled by gravity and not its engine.
Concept Cars
Recent years have seen some of America's best-known cars turn up in big-budget science-fiction films; Michael Bay's Transformers features the space-robot Bumblebee, who can disguise himself as a 1976 and 2009 Chevrolet Camaro, while the murderous albino twins in The Matrix Revolutions drive a custom hybrid made by combining Cadillac Escalade parts with body parts from the Chevrolet Avalanche pick-up truck. Many of the futuristic vehicles in Demolition Man were based on General Motors concept models as well.
Like the muscle cars of the past, these fanciful four-doors of tomorrow are the ones that stick in our mind. But no matter how loud the roar of the engine, or how cool the curve of some fantastic high-tech fender, that our image of America's automakers exists in a high-octane past or some fanciful far-flung future seems a little too close for comfort when you read the headlines and financial reports from the here-and-now.
What's your favorite American car moment from the movies? Let us know below.
Read More