Daniel Craig Loses a Fingertip for Quantum of Solace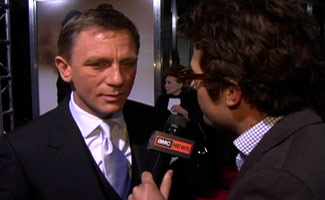 The latest Bond flick has claimed another victim — Daniel Craig's fingertip. AMC News correspondent Jacob Soboroff attends the opening night of Quantum of Solace where a very nonchalant Craig claims "it's all good." Also, could the next 007 movie co-star Robert De Niro and Debra Messing?

Want more? Click here for additional AMC News videos.
Judging by the turnout at the premiere, Quantum of Solace has everyone sharing the love for James Bond — and coveting a role in the next film in the franchise. What makes creator Ian Fleming's secret service man so appealing? AMC News asked the current cast and this is what they had to say…
Read More