Daily Scan for 11.27.08 – Old Spock Returns, New Doctor Who Surfaces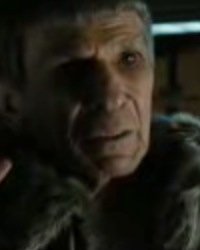 • Some lovely Firefly Christmas ornaments to soar around the 'Verse of your tree.
• The preview for the next Futurama movie is out. I'm not looking forward to these anymore: 88 minutes just feels 66 minutes too long.
• Is this man the next Doctor Who? Almost definitely, though I had no idea the Doctor could regenerate races as well.
• SF Signal hosts another Mind Meld: "Who are the most memorable characters in science fiction?" I vote for that cute little fish Captain Nemo. Oh wait…
• Yet another new trailer for J.J. Abrams's Star Trek is out. It's pretty much the same as the last one except it includes an appearance from an elderly Spock, who looks like he just walked out of a zombie movie. Live long, indeed.
Read More