Daily Scan for 11.19.08 – Kirk Lives Up to His Name, Gaeta Lives Up to His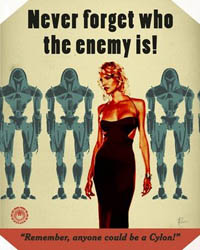 • A frame by frame dissection of the latest Star Trek trailer reveals some interesting tidbits, including the fact that Kirk apparently beds an emerald-skinned slave girl. At least that will be true to the spirit of the original series.
• Those way-delayed Battlestar Galactica webisodes will apparently reveal that Lieutenant Gaeta is not just an amputee, but a gay amputee. Not that there's anything wrong with either!
• Simon Owens over at MediaShift talks about the problems scifi magazines are having in the digital age. Interestingly, most of the problems are decades old and completely unique to the genre.
• io9 ponders the identity of the final Cylon. It's someone not in the Fleet, and it needs to generate a huge emotional reaction. My guess is that it's actually Tigh's "dead" wife.
• The Wall-E DVD comes with a five minute video of a cute little flame robot from the movie. It's called Burn-E, and director Angus MacLane talks a bit about it over at Movieweb.com.
Read More