Daily Scan for 11.13.08 – Speculative Fiction Worth Reading Twice, Is Summer Glau the Best Terminator Ever?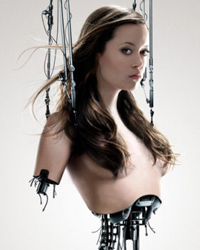 • Schlock B-Movie king Brian Yuzna is doing a scifi movie, Halcyon, featuring an alien prison, a blood thirsty monster and space marines.
• Slice of SciFi lists every flavor of Terminator they can think of.
• The organizer of the National Novel Writing Month gives some suggestions for writing a scifi novel in thirty days. Because the world needs another dashed off scifi novel!
• SF Signal has another great Mind Meld: Speculative fiction books worth reading twice.
• Is Summer Glau the best Terminator ever? SciFi Wire sure thinks so. She's certainly more snugglable than Arnold.
• One thing I will give Zack Snyder's Watchmen: the promotional materials have been top notch.
• Behold! J.J. Abrams' Starship Enterprise!
Read More