Daily Scan for 11.28.08 – Skywalker Is An Idiot, Monkeys Come From Comic Books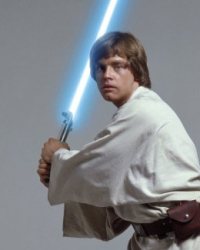 • Topless Robot makes a good case for why Luke Skywalker is a complete idiot. In hindsight, his plan to rescue Han from Jabba was totally insane.
• A young man in the UK had his name legally changed to the hilarious, "Captain Fantastic Faster Than Superman Spiderman Batman Wolverine Hulk and The Flash Combined."
• Who knew those mail-order offers for pet monkeys in old comic books were in fact legit? One man ordered a monkey from an issue of Amazing Spider-Man, and lived to tell about it.
• His live-action movie might be on hold, but there's always He-Man on ice. Amazingly, the costumes are better than in the 1987 Dolph Lundgren cheese-fest .
• These alternate takes on Spongebob Squarepants are utterly hilarious and beautifully drawn. Nickelodeon needs to green-light "SpongeBuck Blasterpants" immediately.
• When Super Mario and the Teenage Mutant Ninja Turtles meet, tragedy is bound to occur.
• Most online petitions are pretty bogus. But this one to get Stan Bush's "The Touch" from 1986's Transformers: The Movie into either Rock Band or Guitar Hero strikes me as incredibly productive.
Read More