Classic Ten – Greatest Spy Movies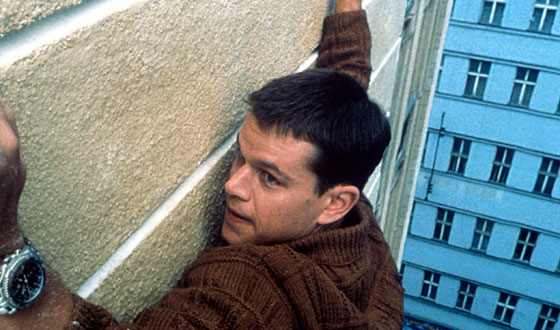 With Quantum of Solace just around the corner, let's take a moment to look beyond Bond at the best spy films of all time. All right, so not entirely beyond Bond — a top ten spook list wouldn't be complete without at least one 007 movie (guess which turns up here?), but the remainder of these tales of spies and saboteurs need their day in the sun. At times grittier, darker, shabbier and stranger than the man with the license to kill, they have each placed a distinctive stamp on the genre — and made us rethink what spying means in the real world.

10. Sneakers (1992)
One of the funniest spy movies ever made, Sneakers doesn't focus on an individual spy but rather on a ragtag team of "security specialists" — Robert Redford as the leader, Dan Aykroyd as a conspiracy theorist techie, David Strathairn as a sarcastic blind man with supernaturally sharp hearing — who stumble upon a universal decryption device that everybody in the world wants to get their hands on. Full of gadgets, trickery and deception, Sneakers tackles covert operations with tongue in cheek, though its final message — "There's a war out there … And it's not about who's got the most bullets. It's about who controls the information" — still resonates.
9. Point of No Return (1993)
What if your government forced you to be a spy? That's the situation in which Bridget Fonda finds herself in Point of No Return, the American remake of the better-known La Femme Nikita, Luc Besson's thriller about a junkie transformed into a deadly assassin and spy. No Return has pleasures all its own, including Harvey Keitel as an expressionless "cleaner," but it's Fonda who perfectly sells the desperation of a spook trying to escape her fate.
8. Notorious (1946)
Nowhere is the tension between the private life and secret work of a spy better explored than in Alfred Hitchcock's Notorious, in which the romance between Cary Grant's government agent and Ingrid Bergman's spy protégé is strained by her undercover assignment as a Nazi's wife. Which will win out — their relationship, or justice? Bergman never loses sight of her true devotion, though Hitchcock's innovative camerawork and masterful suspense make the outcome doubtful until the end.

7. Spartan (2004)
A spy movie for the post-9/11 Bush era, David Mamet's workmanlike but unmistakably idiosyncratic Spartan explores the government corruption and vice behind the mysterious death of a president's daughter. As Val Kilmer's relentless, humorless special op learns more about the cover-up, he must go rogue to do what he knows is right. Spartan, though at times utterly preposterous, investigates where loyalty ends and morality begins — a dilemma a traditional spy movie like Notorious would never have to confront.
6. Dr. No (1962)
The first James Bond movie, with Sean Connery snugly fitting into the role he would define for the next decade, is also the closest the series has to offer in the way of a no-frills spy thriller. It adhered to the classic spy paradigm perfected by Hitchcock but also started a trend of modern, paranoid Cold War espionage movies that would pave the way for darker entries like The Spy Who Came in from the Cold. It's light on the gadgets that would eventually make Bond a lark, and instead bets on the tough and gritty — yet still adventurous and sexy — work of a real spy.
5. The Good Shepherd (2006)
"When we talk about 'CIA,' we never use the word 'the' in front of it … Do you put the word 'the' in front of 'God'?" In Robert De Niro's The Good Shepherd, the birth of the CIA is witnessed from the point of view of a company spook (Matt Damon) whose empty marriage and lack of a father figure haunt him into accepting the Central Intelligence Agency as his lord and master. Paced to the slow burn of a bureaucrat's thankless secret work, The Good Shepherd indicts the shortsightedness of American foreign policy and the hollow men who prop it up.
4. The IPCRESS File (1965)
Released the same year as the towering The Spy Who Came in from the Cold, The IPCRESS File similarly debunks the Bond myth of spydom by countering the exotic fun of 007 with the slow-paced, bureaucratic maneuverings of an expendable British spook who must be as political as he is stealthy. No glamour and glitz for Michael Caine's Harry Palmer, just the cold hard reality of spying — even if his missions do involve brainwashed scientists.
3. The Bourne Identity (2002)
Jason Bourne is a twenty-first century spy embroiled in international intrigue so confusing and unpredictable that his mission transforms from revealing others' identities to discovering his own. A long way from the more rudimentary undercover operations of The IPCRESS File, The Bourne Identity has Matt Damon's amnesiac CIA man attempting to remember his own name as a conspiracy closes in on him. It's a disorienting game of cops and robbers unmoored from previously definitions of right and wrong — a perfect allegory for the post-Cold War world.
2. No Way Out (1987)
Tense, paranoid and capped with a shocking plot twist that relieves the confusion of a labyrinth, smoke-and-mirrors plot, No Way Out is a great last gasp for Cold War-era spy thrillers before the fall of the Berlin Wall and the collapse of the Soviet Union. Set up by Gene Hackman's conniving, murderous Secretary of Defense, Kevin Costner must clear his name. We root for him, until we realize that he's been fooling us right along with everyone around him.
1. The Spy Who Came in from the Cold (1965)
To earn the title, the greatest spy movie of all time must not only provide the vicarious thrills of double crossings, secret identities and narrow escapes, but also connect its audience to the real-life compromises and perils that make espionage a necessary evil. The Spy Who Came in from the Cold, based on John Le Carre's classic novel, is that movie. As Richard Burton's British agent uses his own government to secure the freedom of an East German spy he once thought to be his enemy, he learns that nothing is as it seems in Cold War politics. Morality, like anything else, is completely expendable — until Burton chooses honor over his own security in a tragic ending that confirms heroes exist even in the shadows of international intrigue.
What's the greatest spy movie?

Read More