Call Him Indy Stalker – Ben Affleck Shadows Harrison Ford's Career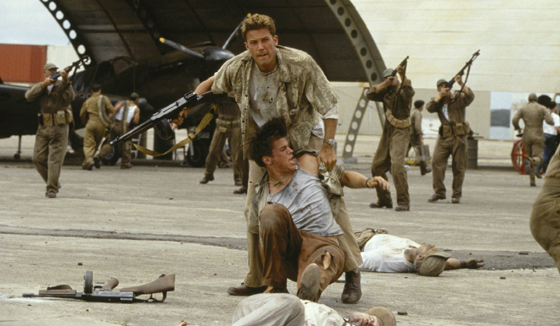 Surveying his taste in movie roles over the years, it's clear Ben Affleck desperately wanted to be Harrison Ford. And at times, Affleck came close to Ford's marquee status, if not his respectability. Looking at their respective careers, the two superstars followed similar paths.
Much like Ford's memorable turn in American Graffiti , Affleck first garnered Hollywood attention with the similarly sprawling teen epic Dazed and Confused . Throughout his career, Affleck has followed the Ford mold of balancing action ( Reindeer Games , Armageddon ) with the occasional romance ( Bounce , Forces of Nature ), and in some cases both at the same time: The Star Wars trilogy for Ford; Pearl Harbor for Affleck. Both Ford and Affleck have taken on larger than life heroes, with Indiana Jones and Daredevil, respectively. They've also both tackled Philip K. Dick ( Blade Runner , Paycheck ), and Tom Clancy (Affleck starred in the Jack Ryan reboot The Sum of All Fears .) Oh, and they both, uh, "flirted" with a late-night talk show host, appearing in the "I'm F-ing Ben Affleck" video on Jimmy Kimmel Live. It makes sense that Affleck would want to emulate Ford's career — for actor's of Ben's generation, Harrison is king.
So what went wrong for Affleck?
His celebrity romances made him a running tabloid joke (Affleck himself admitted
that perhaps he was too open in his relationship with Jennifer Lopez), and that, combined with some bad movie choices (Gigli, Surviving Christmas) hindered his reputation. But recently, Affleck has exhibited a more mature streak, directing the
well-received Gone, Baby, Gone and earning some acting cred for his portrayal of the late George Reeves in Hollywoodland . After staying out of the spotlight for a while, he'll be returning to A-list roles in 2009 with State of Play and He's Just Not That Into You.
And Affleck does excel at one thing that Ford has never attempted — playing bad guys. Boiler Room , Mallrats , and a recent Saturday Night Live
hosting gig showcased his smarm to great effect. As Affleck ages, he
would be wise to turn a corner and follow the career path of another
former Jack Ryan, Alec Baldwin, and embrace his inner jerk.
For a complete schedule of Pearl Harbor on AMC, click here.
Read More