Barack Obama Made History, but Black Movie-Presidents Paved the Way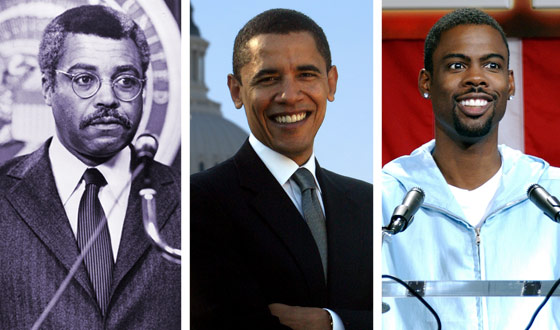 Barack Obama made real-life history on November 4, but in the world of movies, we've had black presidents for decades. Of course, some make better role models for the President-elect than others….
Idiocracy (2006)
In this satire from screenwriter Mike Judge ( Office Space ), America finally gets a black president — in the 26th Century. Unfortunately, he is Dwayne Elizondo Mountain Dew Herbert Camacho, a motorcycle-riding former pro wrestler (ex-NFL linebacker Terry Alan Crews), who commands respect during his State of the Union address by firing a machine gun into the ceiling of what he calls the "House of Representin.' "
Lesson: Get a good speech writer.
Head of State (2003)
Chris Rock as president! Bernie Mac as vice-president! Sounds like an executive branch with a sense of humor. Though Rock's character, a D.C. alderman, is set up to lose the campaign, earning his party's nomination after the original candidate dies in a plane crash, he eventually wins over the electorate by speaking honestly in a way politicians usually avoid.
Lesson: Tell the truth.
The Fifth Element (1997)

For some reason, many black movie presidents appear in either off-the-wall comedies or scifi fantasies. Also, there seems to be a wrestling theme. This cult classic takes place in the year 2263 and features Tommy "Tiny" Lister (a WWF alum) as the president of the United Federation. Even though Bruce Willis' Korben Dallas is not the most likely hero (he's an ex-marine and failing cab driver), the president sends him to save the world from evil Gary Oldman (which he does).
Lesson: Surround yourself with people you can trust.
Deep Impact (1998)

As Jon Stewart said at the Academy Awards in March, "Normally when you see a black president, an asteroid is about to hit the Statue of Liberty." Stewart was referring to this movie, in which Morgan Freeman has to deal with a killer comet hurtling toward planet Earth. It's almost as though America won't give a black president a chance until all the white ones have completely fouled everything up — an interesting argument, come to think of it.
Lesson: Things could be worse!
The Man (1972)

With his deep voice and reassuring presence, James Earl Jones was made to play a president, just like the most famous black president on TV, Dennis "You're in Good Hands" Haysbert (24). In The Man, Jones has to lead the country after the president, vice-president and speaker of the house all die. In the early '70s, The Man made a powerful statement; the ad campaign alone — with its image of a black man in the White House — was inspiring.
Lesson: Be your own role model.
Rufus Jones for President (1933)
Sammy Davis Jr. was only 7 years old when he danced his way to the Oval Office in this vaudeville-era musical comedy. As you might expect, this 23-minute film is full of cringe-inducing stereotypes: Davis' Rufus Jones becomes a pint-sized prez by promising pork chops to anyone who votes for him. After he's elected, he does a tap dance in the Capitol, wearing top hat and tails. But the movie's most important moment comes at the beginning, when young Rufus is sitting on his mother's knee. "Is I gonna be a great man, Mammy?" he asks. "You sure is," his mom answers. "You gonna be … president!" "Me?" "Sure," she says. "They have kings your age. I don't see any reason they can't have presidents. Besides, the book says anybody born here can be president." "Well," little Rufus replies. "Ain't that somethin'."
Lesson: Rock on — you made history.
Read More