Will Hollywood Influence White House Policy?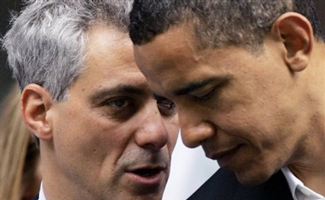 "Hollywood and Washington always had a dance," says Shootout co-host Peter Guber. This week he and co-host Peter Bart discuss what that dance will be like with Barack Obama. Are the cozy Clinton years back? Or does "change" mean distance from Hollywood lobbyists… otherwise known as celebrities.
"Obama is really by nature going to pull back from Hollywood," says Bart. "His instincts are such that we may find him burying himself more in academia." Guber, who was a guest at the Clinton White House, sees things differently. The new president will court this constituency because, Guber argues, he'll need their help. "I think both Hollywood and Washington are rebooting and I think that the old programs are still inside, and each will decide how they can use that currency."
The appointment of Rahm Emanuel as Obama's chief of staff means at
least one line of communication will be open. (His brother, Ari
Emanuel, runs the Endeavor talent agency and is the inspiration for the
character Ari Gold on Entourage). But does that mean 1600
Pennsylvania Avenue will be the new celebrity hotspot? It might be
better for Obama if it wasn't. Clinton, says Bart, "palled around too
much with the stars and it hurt him."
Obama is a Democrat and
he's smart enough to see the benefit of having Oprah in your corner,
but he's not Clinton. Even if he is hiring some of Clinton's people
(including former First Lady Hillary Clinton) no one should expect a
return to '90s — those days are gone. Clinton was the life of the
party; Obama is the reason for the party. It's not going to be the same.
Could there be a return to the days of Roosevelt, and the cooperation that existed between the administration and Warner Bros.? WWII was Harry Warner's war as much as it was Roosevelt's.
But today's studios don't have that kind of power, and even if they
could afford to make that kind of propaganda, today's audiences might
not choose to see it… though it would be interesting to see such a
coordinated effort to sway the public to support Obama's foreign or
domestic policy.
Even if Bart's right and Obama distances
himself from Hollywood, his win is a win for movie makers. Blogger
Steven Zeitchik found that the year after a Democrat is elected, box office swings higher than when a Republican wins.
In the last seven elections, box office spiked nearly 7 percent after a
Dem was elected compared to around 3 percent after a Republican took
office: The two worst years for box office in the past thirty years
came after Reagan and Bush were given second terms. When Clinton was in
office, for three straight years ('97 to '99) box office rose at least
7 percent. Who knows why it happens? The point is: For the first time
in a long time Hollywood has reason to hope.
(AP Photo by Charles Rex Arbogast).
Read More