Sly Didn't Suffer From Sequelitis Quite Like Paul Hogan or Jackie Mason Did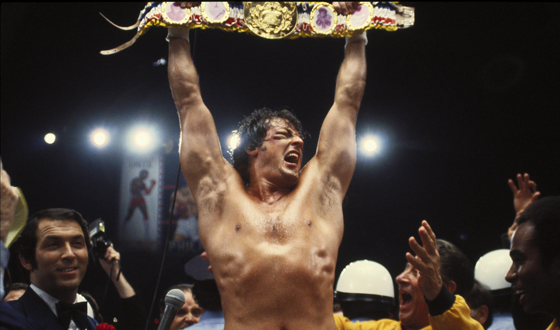 In the history of cinema, sequels are notorious for taking everything that was well, original, about the first movie, and dragging its good name through the muck. There have been some exceptions, of course (Rocky II, Terminator 2 , and The Dark Knight come to mind), but for every good sequel, you can probably name twenty awful ones. Let's take a look at some Part Twos that didn't work like Rocky II did, and why they were subpar.
Jaws 2 (1978): Keep in mind, Jaws
was a fluke: A young director in over his head, a budget that never
should have worked… So, naturally, they decided to do it again.
Essentially rehashing the plot of the first movie (man fights shark)
without any of its wit, Jaws 2, though a box office success, was a critical failure.
Caddyshack II (1988): Building
a sequel to one of the greatest comedies of all time with almost none
of the original stars, and casting Jackie Mason instead of Rodney
Dangerfield certainly sounds like a good idea on paper. Oh wait, no it
doesn't.
Crocodile Dundee II (1988): Crocodile Dundee was a classic "fish out of water" story that introduced American audiences to Australian Paul Hogan. Crocodile Dundee II
took that fish and put him back in the water, just in time for American
audiences to tire of Paul Hogan. Not a crack recipe for success.
Look Who's Talking Too (1990): To cash in on the success of the original, this sequel was hustled out in record time, less than a year later. The end result was only 81 minutes long, which led to much criticism at the time, but in retrospect, is something we should be greatful for.
Book of Shadows: Blair Witch 2 (2000): I
think we can identify a pattern here: Take a unique concept, and try to
repeat it's success, and you're doomed for failure. The makers of the
faux-mentary Blair Witch
went the opposite direction with the sequel, framing the story as a traditional
narrative movie. Instead of breaking new ground like its predecessor, it earned four Razzies.
There are certainly plenty of other sequels that didn't even come
close to living up to the original. So why not check out one that does: Click here to see a full schedule of Rocky II showing on AMC.
Read More