AMC Developing Two New Series – Rectify and Red Mars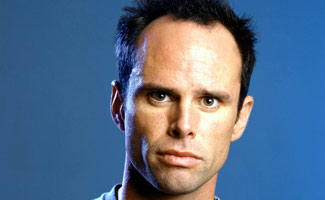 AMC recently announced Rectify as their next series in development. The hour-long legal drama was created and written by Ray McKinnon (The Accountant, Chrystal ) who also serves as executive producer on the project. The Shield's Walton Goggins (at right) is set to star as the lead and co-executive produce. Veteran producing talent Mark Johnson will also serve as an executive producer. This marks the second project for Johnson with AMC. The first is the Emmy Award-winning series, Breaking Bad, where he serves as executive producer alongside series creator Vince Gilligan. Rounding out the creative team for Rectify as co-executive producer is Stephen Kay.
"Rectify takes us to the crossroads of two incredibly compelling worlds. Ray McKinnon's script beautifully weaves together the legal drama surrounding a wrongful conviction into a great character driven family drama; and in that sense it is totally unique," said Christina Wayne, SVP of scripted series and mini-series. "We are so happy to be expanding our business with Mark Johnson. AMC has a great working relationship with him on Breaking Bad and we are thrilled to be working with him again."
Today's news comes on the heels of AMC recently announcing Red Mars as a new series in development. Written and executive produced by Jonathan Hensleigh ( Armageddon and Con Air ), Red Mars chronicles the inhabitants of the first human colony on Mars and is based on the classic sci-fi novel of the same name by Kim Stanley Robinson. Red Mars is executive produced by Michael Jaffe & Howard Braunstein from JAFFE BRAUNSTEIN ENTERTAINMENT (Memory Keeper's Daughter, 10.5 ) and Vince Gerardis, Ralph Vicinanza, and Eli Kirschner from Created By (Jumper).
Read More