World Zombie Day 2009 Likely Made George A. Romero Proud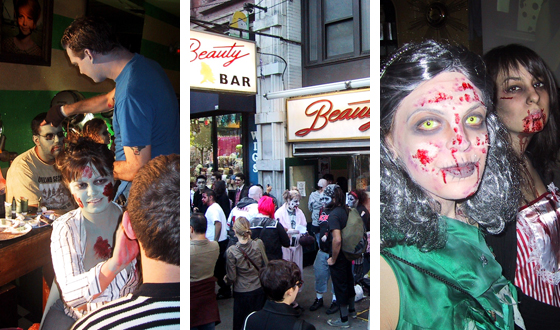 Asheville, North Carolina. Fairbanks, Alaska. Tampa, Florida. Reports are still pouring in from nearly 50 cities about herds of undead roaming the streets. Has George A. Romero been cloned? Not quite. This past weekend was World Zombie Day, an international grassroots event featuring Thriller-dancing and mob shuffling. The goal? To prove that "charity, goodwill, and zombie love can flourish" while serving the living via a canned food drive. Pickled brains, anyone?
There's something about zombie culture that resists fatigue. Unlike pirates, whose popularity waxes and wanes with Disney blockbusters, zombies stay fresh despite decades of Hollywood use and abuse. In fact, the bigger World Zombie Day gets, the less tired it seems. This year, events took place around the globe, including such world capitals as London, Hong Kong and Copenhagen. In New York City, hundreds of would-be shufflers gathered outside Beauty Bar for free ghastly makeovers before heading en masse over to Washington Square Park. Other cities delivered a similar spectacle.
Holly French, zombie coordinator for Nashville, found that after an initial shock, most bystanders played along. "It went very well. We got a head count of 239, more than any walk I've ever done," she commented. "We collected more food than would fit in the boxes we brought along." Ally Voss of Lawrence, Kansas has also seen the event grow by leaps and bounds. "Last year, we had about 100 zombies attend, and this year, that number doubled," she said, adding that the reaction was decidedly mixed: "We had a few small children crying, and others laughing… Businesses weren't extremely pleased because a few disrespectful zombies left 'bloody' hand prints on windows." (If those business owners had seen Dawn of the Dead, they'd know they got off easy.)
Robert Brady from Indianapolis reported that his crew gathered over 300 cans of food and that many passersby expressed regret that they hadn't heard about the event in advance. He added, "There's nothing like the feeling of excitement when hundreds of zombies are walking down the street as someone is coming out of the grocery store on an early Sunday evening!"
Some cities were celebrating WZD for the first time ever. Jenifer Michel Schultz, whose group terrorized Jacksonville, Florida, was impressed with the turnout of 265 zombies. "We had an Elvis zombie," she says. "Scary clown zombies, prom queens, baby zombies, dog zombies! We walked an hour all over around downtown — the line was four blocks long!" In Shreveport, Lousiana, 100 zombies "shambled through Mall St. Vincent," said organizer Michelle McCrary. Meanwhile Barbara Tomlinson was thrilled to see small, dedicated band turn out to show their undead pride in Flint, Michigan: "We had about 30 people show up… We ended our event with a community cookout for all our zombies."
Let's hope this is only the beginning. Halloween may be the big night but it's great to now also have a big daytime warmup that finds an online community that tends to toil in the dark come out in droves to play in the streets. We may not be able to agree on which zombie movie is the best — although that doesn't stop us from voting for our favorite — but it helps to know that at least once a year, even the undead have their day.
Tracking down interviews with horror icons has provided Tom Blunt with a healthy alternative to obsessively spying on old classmates via Facebook. More interviews abound at his site hermitosis.
Read More