With a New Movie Around the Corner, Doctor Strange Enters the Big Leagues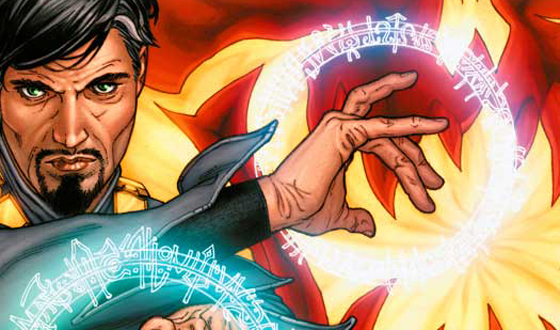 Nick Nadel's Tuesday column examines the increasingly busy intersection between comic books and the movies.
Remember all that talk about Iron Man being a B-level Marvel hero? Seems pretty silly in retrospect, right? Well, the same could be said for Doctor Strange soon. Though he hasn't carried his own ongoing series in years, Marvel Films president of production Kevin Feige recently hinted that Doctor Strange could make it to the big screen as early as 2012. As with Iron Man, you shouldn't discount the Sorcerer Supreme. Here's how a Doctor Strange movie could expand Marvel's ever growing bag of movie tricks.
Oh, the Horror
Marvel has dipped its toes into the supernatural with mixed results in the past (Ghost Rider gave me nightmares for all the wrong reasons), but Doctor Strange presents an opportunity to dive head first into the occult. Earlier this year, rumors swirled that Guillermo del Toro and Neil Gaiman (a geek dream team supreme) were working on an adaptation. Del Toro would no doubt push the horror elements of Doctor Strange, but, sadly, he is currently busy with other projects. Still, Gaiman has expressed interest in the character on a number of occasions, and used him memorably in his 1602
series. Hopefully, Gaiman and del Toro will tackle the good doctor before Brett Ratner swoops in and has him blasting demons with a
magic shotgun.
House With Powers
Dr. Stephen Strange started out
as a cocky surgeon who, after injuring his hands in a car accident,
learns the mystic arts from the Ancient One high atop the Himalayas.
Much like Tony Stark, he's a distinctive character who can, at times,
be a bit of a pompous jerk. Playing up Strange's arrogant side, and
casting an actor with Robert Downey
Jr.'s edge and comic timing, would set the movie apart from the
superhero pack. (Writer Brian K. Vaughn nailed Strange's prickliness
in the recent Doctor Strange: The Oath, perhaps the
character's most definitive story to date. Potential screenwriters would be wise to use it as a model.)
Unforgettable Visuals
There's a reason why Steve Ditko's classic run on the character was beloved by comic book
fans and hippies alike: His artwork is pretty darn trippy.
(Strange is perhaps the only superhero who can claim Ken Kesey as a
fan.) Any Doctor Strange movie worth its salt would bring Ditko's visual style to the screen in the manner of 300 and Sin City .
Marvel has yet to adopt the look of one single artist for a film, and
aping Ditko's groundbreaking artwork would be an interesting place to
start.
Housecalls For The Avengers
While not a founding member of the team, Strange has recently been featured in New Avengers,
allowing the renegade heroes to crash at his Sanctum Sanctorum in NYC's
Greenwich Village. A Strange film would no doubt stand alone, but he
could still pop up during The Avengers to offer guidance on
otherworldly matters. (Like, say, how to take out Loki.) Then he could
team up with the Hulk, Silver Surfer, and Namor for a Defenders movie. Hey, that motley crew would still make for a better film than Ghost Rider.
When
not writing, Nick Nadel is in line at the comic book store alongside
the other geeks, er, fans of speculative fiction. His most prized
possession is a 1960s Batman comic wherein the Dynamic Duo are trapped
inside a fortune cookie factory. He lives in Brooklyn and updates his
aptly named website (nicknadel.com) with comedy writing and videos.
Read More