Web Stalker – How Charles Burns Got the Fear(s) of His Dreams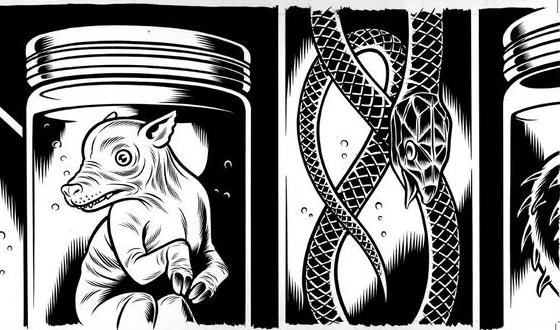 Fear(s) of His Dreams" width="560″/>
Fans of comics, animation, and horror need wait no longer for the anthology film Fear(s) of the Dark (a.k.a. Peur(s) du Noir ) which opens Friday, October 24. Yet while Europeans were probably more eager to see the work of contributing artists like France's Marie Caillou (Marika et le loup), the United States is Charles Burns country all the way. Burns, whose Black Hole is part of the new wave of graphic novels esteemed as bona fide literature, although pleased with the buzz the movie is generating, maintains that this venture hasn't exactly broken him out of his shell. "I just have blinders on, I guess, I sit in my studio and I don't think of an audience sitting in the theater," he says. "I've just been working in obscurity for so long that by now it's just part of my everyday life."
That said, making Fear(s) posed many challenges for an artist used to being left alone as the producers wanted the artists involved in
every single step.
"I worked on the story, the script, the initial animatic (which is sort of a rough storyboard that's timed out). I was meeting French actors and actresses and having them act for me… with some help from translators," Burns recalls. Yet temporarily becoming a collaborateur has taught Burns plenty about the work he's already been doing for many years.
"I feel fairly secure in my ability to write or put
together a story…" he says. "I decided I wanted to step out of my safe zone and try something new and collaborative." The resultant undertaking has elicited curiosity and rave reviews at screenings worldwide. Burns' highly recognizable artwork — which the Independent described as invoking "a sexual dread and existential panic worthy of Kafka's Metamorphosis" — is just one of six different segments, that act as a kind of greatest hits compilation from Prima Linea Productions.
Burns particularly enjoys imagining the reactions of audiences who may not even have seen the trailers. "That's how you expect anyone to
look at any movie or book or piece of art. So yeah, I don't think
anything needs to be said beforehand," the artist says. "I'm hoping the
audiences will come and be gobsmacked."
His admiration of the other contributors was no small part in
his own decision to partake. "The other American, Richard
McGuire, did a pretty amazing piece which ends the movie…" he comments.
"And I've always really liked the work of Blutch, who did the piece
that my wife won't watch." Let's just say that this one will have you
looking askance at dog-walkers for years to come.
As for what you're really wondering about — the Black Hole big screen adaptation
which purports to have David Fincher (Se7en, Fight Club ) at the helm — Burns isn't hiding
anything. There just isn't much to say yet. "There was a script that
was written, or a couple of drafts, but at this point there's a new
writer who's in the midst of writing a new script," he offers. Can't he at least settle once and for all whether the film
will be another jaunt into the world of Burns-ian animation, like Fear(s)?
"It can be claymation for all I know," laughs Burns. "There was some
talk about the possibility of working with green-screen or whatever; I
don't know anything about that world, but there was talk about having
some way of capturing or emulating the look of my drawings, but that's
speculation at this point."
Tracking
down interviews with horror icons has provided Tom Blunt with a healthy
alternative to obsessively spying on old classmates via Facebook. More
interviews abound at his site Hermitosis.com.
Read More