The Haunting of Molly Hartley Review – Christian Propaganda With Closeups of Nasal Surgery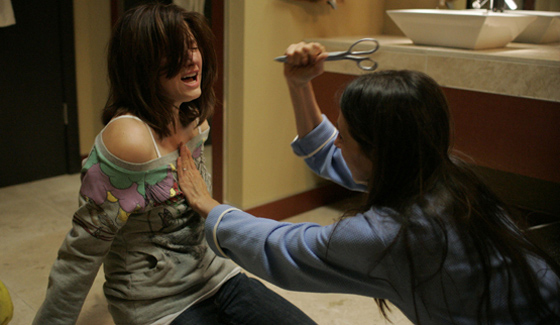 The Haunting of Molly Hartley Review – Christian Propaganda With Closeups of Nasal Surgery" width="560″/>

Some movies are bad, and that's not good. But some movies are so bad, so amateurish, so bizarrely unappealing in every single respect that you're left in awe that the filmmakers even knew which end of the camera to point at their actors. The Haunting of Molly Hartley is that kind of film, a movie made by people so devoid of common sense that you're amazed they understand written speech and know how to use simple tools. There is no purpose to it: Is it Christian propaganda? Is it supposed to scare the audience? Is it supposed to entertain any living creature? It fails on all counts, and so the only purpose I could find for it was that it was a movie setting out to hit every single motion picture cliche — all of them — as hard as possible.
Opening with two teenaged lovers being killed eleven years ago, the movie kicks things off by jamming in four "Jumping Cats" in just the first ten minutes. A Jumping Cat is that unfortunate moment in a horror movie when the music builds, the tension mounts, and something leaps at the actress… and it's only the cat. Phew. In the opening scene of Molly Hartley we get the wind (Cat 1) birds thrown at the actress (Cat 2), a boyfriend saying boo (Cat 3) and a masked stranger in the background who turns out to be her dad (Cat 4). Four cats! Cut to the present day, and young singer Haley Bennett, playing the titular Molly Hartley, shows up for the first day at her private school. Her dad is worried about her; there's something mysterious in her past and she skips her appointment with the school counselor. The most popular boy at school (Chace Crawford of Gossip Girl) likes her, but his mean girlfriend warns Molly to stay away.
Molly has many dreams where someone is about to kill her, and she
suffers from headaches and nosebleeds, which results in a tumor being
pulled from her nose. She also spends time crying on the bathroom
floor, and attends a party where she gets in a catfight with Crawford's
girlfriend, and bonds with the school's resident goth as well as a
young student who loves Jesus invites her to the Christian Community
Center, which looks about as appealing as the local methadone clinic.
Molly runs away from the party, wanders the streets, collapses, and
then we're treated to a shocking switcheroo for an ending where
everything we assumed we knew is wrong.
If this makes it sound
like there is no story that's because there isn't. The regular sign
posts of plot, action and character are completely absent, and so the
movie seems to exist in some kind of timeless limbo where the only sign
that your suffering is over is when the credits roll. Every line of
dialogue is a cliche, as is every character and even every camera
set-up, and there are more Jumping Cats in this movie than a Purina Cat
Chow commercial on a trampoline. But by the end, The Haunting of Molly Hartley
has taken on a life of its own. I'm not sure if it's the attempted
murder by full-immersion baptism, the long, lingering, gag-inducing
close-ups of nasal surgery, the crack-brained lines ("Yes! I want
salvation!" Molly screams at one point) or the endless scenes of people
walking down the street like something from an Ed Wood movie, but this limp remake of To the Devil a Daughter
does take on a psychotronic form of quasi-half-life by the end. And
while a half-life is better than no life at all, it's still not enough
life to make anyone want to see this movie.
Grady Hendrix is one of the founders and programmers of the New York Asian Film Festival. He writes about Asian film for Variety at Kaiju Shakedown and should have found something better to do with his life by now.
Read More