The Alamo Can Help Your Golf Game, Just Ask the US Ryder Cup Team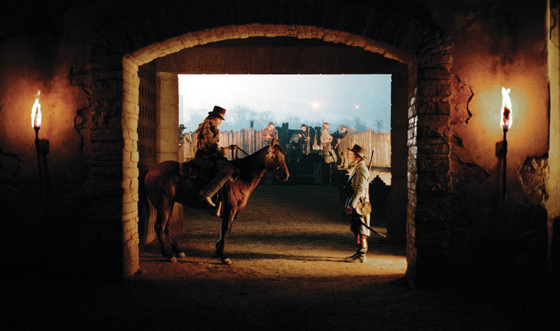 In September, the United States team finally won the Ryder Cup after three consecutive losses to the Europeans. It was great to see the underdog Americans back on top, but it still wasn't as exciting as the last U.S. win in 1999, a triumph considered to be one of the greatest comebacks in sports history. This year Captain Paul Azinger made sure his players were inspired by a visit to
the Muhammad Ali Center and a visit from legendary Notre Dame coach Lou
Holtz. But what was the secret of their success in 1999? They remembered the Alamo, of course.
With one day remaining, the United States team trailed the European
team,10-6. No team in 33 previous Ryder Cups had ever erased more than
a two-point deficit to win. The situation seemed hopeless. The American
captian, Ben Crenshaw, surprised the media Saturday evening by saying,
"I've got a good feeling about this. That's all I'm going to say."
That
night George W. Bush, then Governor of Texas, helped Crenshaw rally his
"troops." The future President delivered a passage from a famous letter
written by William Travis, commander of the besieged Texan forces at
the Alamo in 1836. "I
call on you, in the name of liberty, of patriotism, of everything dear
to the American character, to come to our aid with all dispatch,"
Bush read. "If this call is neglected, I am determined to sustain
myself as long as possible and die like a soldier who never forgets
what is due his honor and that of his country." Their hope of winning
the Ryder's Cup appeared to be lost but then, at that time, so did
Texas' hope of independence from Mexico. And we all know what happened
there.
For the Ryder Cup team of 1999, it all came down to two players and one hole: Justin Leonard vs. Jose Maria Olazabal. Leonard shot first and sunk his 45-foot putt, causing "pandemonium on the course, a scene never seen before on the links… like a baseball team after winning the World Series." According to ESPN.com:
But the U.S. hadn't won. Olazabal still has his birdie
putt to halve the hole. If he makes it, the match is still on. If he
misses, Leonard goes to one up, and a half point guarantees a U.S. win
and the greatest comeback ever. The commotion subsides. Olazabal takes
his time. He waits for a grumbling truck to pass by. A prop plane
putters overhead. He waits again. The Spaniard draws the head of his
putter back and puts a good stroke on the ball. The ball tracks &
and misses.
Not a golfer? No problem. Watch the 2004 film, The Alamo, instead. For a complete schedule of the film on AMC, click here.

Read More