Stacie Ponder – Dear William Castle Wannabe, Please Watch More Infomercials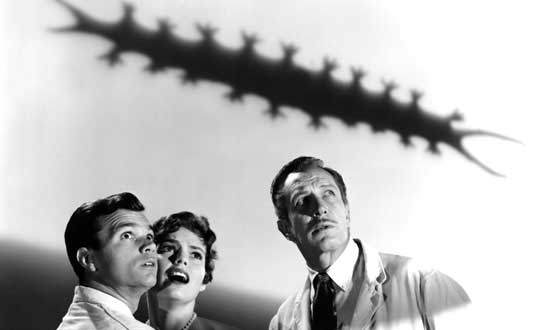 One of my favorite things in the entire world has seemingly nothing to do with horror movies: It's what I like to call the "commercial idiot" or the "infomercial stooge." You've seen them on TV: The announcer says something like, "Do you struggle every day putting on pants?," and we see the infomercial stooge trying to put her pants on over her head, only to be foiled. She wrestles with them, grimacing and gnashing her teeth, and finally gives up in a huff, throwing a look at the pants that says, "I hate you, pants! Why must you always defeat me?" The announcer then introduces some new product that will help her and idiots like her get their pants on painlessly.
I adore the people in these commercials, always bested by something innocuous, like a pencil or a salad bowl. I adore their silent-movie faces. And I adore the ridiculousness of the products themselves — a pencil that stays clipped to your belt! A salad bowl that has a lid! What I find worrisome is the prospect that there might be people watching at home who identify with the woman — those who think, "Why, my pants foil me, too! This is a product I need!" My adoration is basically passive; I'm not one to fall for the gimmick. That NASA-developed towel isn't going to sop up 50 gallons of water. There's no way that putty will actually hold a cinder block in place. I don't buy it. And yet…
I'm a total and complete sucker for the horror-movie gimmick. Absurd pseudo-pageantries get me giggling like a simpleminded 3-year-old at the circus. All my cynicism melts away at the prospect of a movie being so "terrifying" that the theater has to take out life-insurance policies for the audience, lest they be scared to death.
True — a little ember of cynicism always glows. I know it's just a gimmick. But this kind of shtick is fun, and it can create a sinister atmosphere around a film and even a sense of camaraderie among audience members, as if everyone's about to do a tour of duty together. Handing out barf bags before a showing of The Exorcist smacks of, dare I say it, innocence — lurid innocence, but innocence all the same.
Producer-director William Castle was undoubtedly the master of the horror gimmick. The aforementioned insurance policies (to accompany Macabre ) were his idea, as was having cardboard axes handed out on Joan Crawford's Strait-Jacket promotional tour. His most famous stunts involved rigging the theater itself: During screenings of House on Haunted Hill , an inflatable skeleton zipped up a wire over the audience. Then there's The Tingler , for which several theater seats were wired with large joy buzzers that gently zapped audience members during the course of the film.
Castle also utilized gimmickry in the films themselves. In Mr. Sardonicus , the audience had the opportunity to vote to decide the fate of the title character (he usually got the thumbs-down). Homicidal contained a 45-second Fright Break, during which patrons were free to seek a refund if they were too frazzled to endure the remainder of the film. Those opting out also received a Coward's Certificate, suitable for framing.
Though he was the maestro of schlock, Castle was far from the only filmmaker who enjoyed reeling in the audience with a cheap trick. Amicus Productions, the British outfit best known for their anthology films, served up a Werewolf Break in 1974's The Beast Must Die. At a critical juncture in the film, the action stops and a clock ticks down for 30 seconds, giving the audience a chance to ruminate on everything they've seen so far. It's completely pointless, in the scheme of things — and completely awesome.
And that's basically my take on all these gimmicks: They're silly, mindless, and relentlessly cool. I say bring back the good old days, filmmakers — make me think that what I'm about to see could scare me to death. I won't hold it against you when I'm still alive as the credits roll.
Read More