War Hero Audie Murphy Found His Niche As a Star in Westerns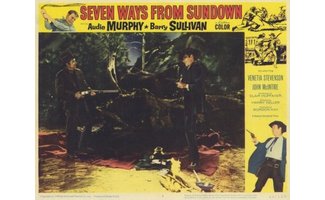 With his boyish charm, the actor Audie Murphy looked like many a young stud in '50s Hollywood. But one thing set Murphy apart: He was the most decorated soldier in World War II. His breakthrough performance came when he played himself in the 1955 war drama To Hell and Back.
Universal Studios' highest grossing movie at the time (surpassed two decades later by Jaws ), To Hell and Back was based on Murphy's best-selling memoir. After lying about his age (17) to get into the service, he rose through Army ranks and earned a Medal of Honor after single-handedly fighting off an entire squad of German soldiers from atop a burning tank. He received 24 decorations and appeared on the cover of Life magazine.
But Murphy didn't like playing the Hollywood war hero; instead, he became associated with Westerns and starred in over 30 of them. Seven Ways From Sundown, in which he plays a law-and-order Texas Ranger who partners up with John McIntire to catch a dastardly outlaw on the lam, was one of his best.
For a full schedule of Seven Ways From Sundown on AMC, click here.
To share your review of the movie, click here.
Read More