Scott Glenn's Stint in the Marines Prepared Him for The Hunt for Red October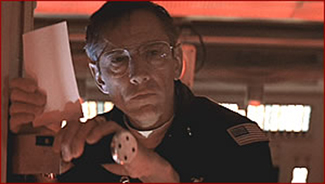 Scott Glenn is one of those great character actors whose personal lives are often more interesting than the movies he appears in. You might recognize Glenn from his roles in Silence of the Lambs , Courage Under Fire , or The Virgin Suicides . The Hunt for Red October fans will always remember him as Bart Mancuso, captain of the Dallas submarine. And if his portrayal seemed especially believable, you can thank Glenn's years in the Marines Corp.
Actors often describe film shoots as "boot camp." But for Red October,
Glenn was basically leading the camp. Glenn, along with other cast
members like Alec Baldwin, received training aboard the USS Salt Lake
and USS Houston. (The Houston subbed in for the Dallas in the film, and
it's crew later adopted the movie's "The Hunt Is On" tagline as their
motto.) In a true case of method acting, Glenn was allowed to briefly
assume command of the Houston to prepare for his role; no doubt his
Marine experience earned him respect around the sub. Glenn received
orders from the actual ship's captain over an earpiece — but for a
brief period an actor was commanding a nuclear-powered attack
submarine.
Glenn will soon appear in perhaps his most high-profile role to date, as Donald Rumsfeld in Oliver Stone's upcoming W. Perhaps as the former secretary of defense, Glenn's military know-how came in handy once again.

For a complete schedule of The Hunt For Red October airing on AMC, click here.
Read More