Saw V Review – Disoriented Characters for a Disoriented Audience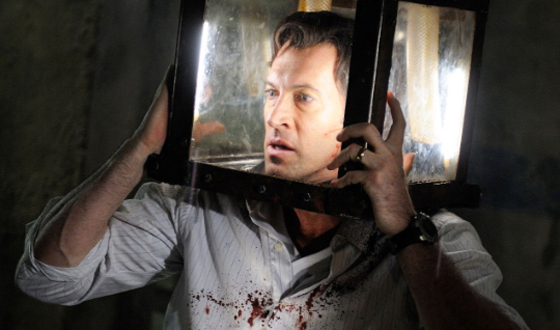 There are some death traps at the beginning of the movie that show a
bit of sadistic invention, and one at the end that's pretty disgusting.
In between lies a bromance between Hoffman and Jigsaw (Tobin Bell) that
all takes place in flashback as Bell grooms Hoffman to be his
successor. Bell owns the film, turning in a nice low-key performance,
but that's about all it has to recommend it. The two men spend the
movie tying each other up, working on home improvement projects
together and hiding in closets watching fat, naked men die — it's like
date night for the serial killer set. As in most of the previous Saw
movies, there are also people being herded through a maze of death
traps while Jigsaw hectors them about their character flaws. But their
acting is as bad as the yawn-inducing fates that await them, and
ultimately, it's very, very hard to care.
To its credit, this is the fifth Saw movie. Friday the 13th Part 5: the New Beginning turned its lead character into little more than a red herring, Nightmare on Elm Street 5: the Dream Child saw Freddy Krueger turned into a baby and Halloween 5: the Revenge of Michael Myers was the least successful of the Halloween movies. So you have to give some credit to Saw for
sticking to its guns for so long without getting Jigsaw pregnant,
having him develop telekinesis, or introducing druids. But that's about
all it's got going for it, and on an ominous note, a subplot involving
Jigsaw's wife is left hanging, hinting there's going to be a Saw VI unless,
of course, the current economic mess completely destroys Hollywood. I
don't know about you, but I'll be watching the markets and praying for
them to continue falling. That's going to hurt a lot of people, but the
idea of yet another flashback-padded installment in this tired series
seems so much worse.
Grady Hendrix is one of the founders and programmers of the New York Asian Film Festival. He writes about Asian film for Variety at Kaiju Shakedown and should have found something better to do with his life by now.
Read More