Rob Zombie to Judge Your Greatest Fear Video Contest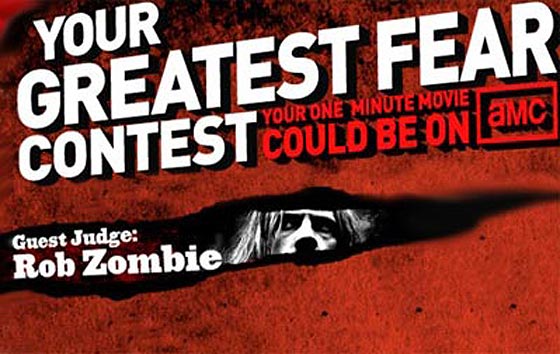 What's your greatest
fear? AMCtv.com invites you to create a short video (one minute or shorter) that
addresses this very topic. The video can take the form of a simple narrative, an
avant-garde meditation, and even a documentary. The choice of subject matter is
also up to you: Vampires, snakes, mothers-in-law, midterms, and being buried
alive are all fair game. Whether it's any good will be decided by the voters and
our guest judge Rob Zombie.
Entering is easy.
All you need is an imagination and a video camera. And the rewards are
exciting.
The top twenty
videos (receiving the most votes before November 7) will make it to a final
round that will be judged by Rob Zombie on originality, quality, and relevance.
The top ten finalists will win horror-movie DVDs. The grand-prize winner will
have a chance to air his or her short on AMC during a future Fear Friday and
will receive $4,000.
Submit any time before October 31.
Go to Your Greatest Fear Video Contest to enter the contest, view and vote for entries, and for contest updates.
Read More