Masters of SciFi – The X-Files's William B. Davis Discusses the Art of Lurking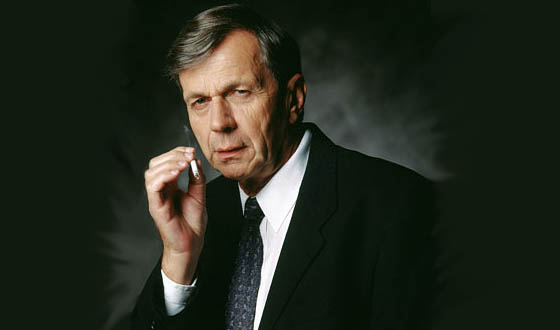 The X-Files's William B. Davis Discusses the Art of Lurking" width="560″/>
William B. Davis, who played The X-Files's enigmatic Cigarette Smoking Man, discusses the character's quasi-reprisal in the upcoming thriller Passengers and hints at his hopes for a third X-Files film.
Q: What attracted you to Passengers?
A: The story itself is fascinating. They did — as you probably know — some kind of amazing effects on the beach, crashed the craft and so on. It's one of the roles where I'm a mysterious person in the background. I frequently hover and watch.
Q: That sounds a lot like Cigarette Smoking Man, your character on The X-Files.
A: And I think that was going through [the producers'] heads. Not that they necessarily wanted to make it seem like I was the same person, but there's a certain kind of aura I present that emanates in the public mind. Thankfully I get to sometimes play other roles as well, though.
Q: What makes you such a good lurker?
A: It's funny, because one doesn't really know. One just does it and they say, "Oh my goodness that was scary," and I go, "What? I'm just watching people!" But I guess I bring an intensity to the situation. So much of what conveys on the screen is the actor is thinking, the character is thinking; the mind is alive in some way. And so one tries to bring that to bear in those kinds of situations.
Q: How does the cigarette smoking fit into that?
A: It goes on automatic in a way as it does with any heavy smoker. For CGB Spender, I think it was a way of constantly deadening himself. He'd hollowed out so much of what he had thought he was living for and it was kind of his way of getting through just to do it.
Q: What did you think of the latest X-Files movie?
A: I thought it would have been a lot better had I been in it. [Laughs] To be honest I wasn't surprised X-Files fans didn't love it. People would always ask me at conventions if I was going to be in the movie, what I knew about it. When I'd say it was going to be a monster-of-the-week story, they generally seemed to be disappointed. I don't think it's just that they were being polite — I think they really did wish that their favorite characters were going to be in it.
Q: Chris Carter said if he makes a third one, it would return to the alien invasion storyline. Would you want to be in it?
A: I would love to do it. There's a still a bunch of loose ends to that story — my wife is still up there with the aliens as far as I can tell. But I do know Chris has to deal with the fact that we're all quite a bit older now than when he was doing the story, and you can't just sort of drop us back into that timeframe. That was partly why he set up this last film the way he did, which I thought worked fine.
Q: You're a non-believer when it comes to aliens. Why do you take on these far-out roles?
A: I don't think Frank Spotnitz and Chris Carter are any more believers in aliens than I am. For us it's fiction, and it's really good fiction. But if we're telling these fictional stories and it confirms in people a kind of pseudo-scientific belief, it is worrying. I used to go to X-Files conventions and I would ask people if they believed in aliens, and about half would put their hands up. Then I would ask how many believed in government conspiracies, and every hand would go up. This was during the Clinton period and I would say, "But the President couldn't even keep Monica Lewinsky a secret!"
Q: You have a role in the upcoming Battlestar Galactica prequel, Caprica.

A: All I can say really about that is that my death is very dramatic. It's not a very major role — he's some kind of government official, with a lot of power and a lot of attitude — and for reasons that I can't recall, my throat gets sliced. Blood spatters everywhere. I've actually died rather dramatically in several productions over the last few months — I can't seem to live through a movie anymore.
Read More