Masters of SciFi – Robot Chicken Creators Matt Senreich and Doug Goldstein Unleash Another Star Wars Special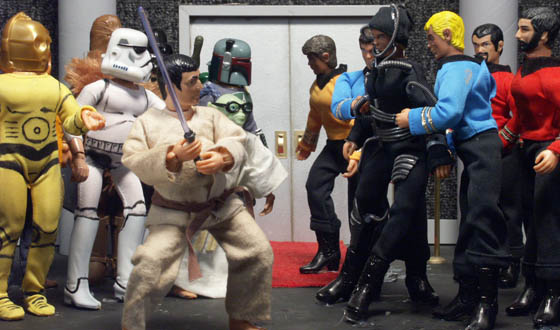 Robot Chicken Creators Matt Senreich and Doug Goldstein Unleash Another Star Wars Special" width="560″/>
Matt Senreich and Doug Goldstein are paid to play with toys. As the co-creator and producer, respectively, of the Cartoon Network's Robot Chicken — the third season of which comes out on DVD on October 7 — they've created some of the savviest comedy sketches on television. The two talked with AMCtv.com about their upcoming Star Wars special and what makes scifi geeks such easy targets.
Q: Season 4 starts with your second Star Wars special. Was it hard to come up with material?
DG: It was different. The first time we did it, we got everything out of our systems that we'd been thinking about since we were kids. And the second time, we had to put a little bit more effort into it and concentrate on the characters.
MS: I think we also took a little bit more of an approach wherein we tried to do more storytelling. You see more characters going from place to place throughout the movies.
Q: So fewer groin-shot sketches?
DG: Fewer groin shots? Groin shots are what sign our paychecks!
MS: It still has all the short bursts, but you'll pick up Boba Fett in a bunch of different environments — you follow his story with a little bit more depth. Same with the Emperor and Vader — you'll see them at different moments in time, and their characters are truer to form all the way through.
Q: You've said that the first Star Wars special had jokes that you'd been thinking about for years. Was the same true for Season 1 in general?
MS: It's a mix. We're doing a Daredevil joke in the fourth season that we've talked about since we saw that movie, in 2003. There are always things that pop up in geek culture that we're talking about.
DG: In Season 1, we had a lot of hot property — Transformers, G.I. Joe — and as the seasons go on and we pitch more Transformers and G.I. Joe sketches, we don't just want to do yet another. So it's a struggle to really accept that new ideas are better.
Q: What is it about science-fiction pop culture that's perfect for parody?
MS: A lot of it just ties into the fact that we are the passionate ones — we are nit-picky and looking at all the intricate details and paying attention to all the silly little things in the background. That's just ripe for humor.
DG: Superheroes and science-fiction stuff go far beyond reality. You've got to suspend a lot of disbelief to watch Superman and say, "Yeah, that works; that's fine." It's very easy to poke holes. We find things that are just so outrageous. You can plumb the depths of their logic and pick them apart and have a good time.
MS: We always say that we like to apply the rules of the mundane to the absurd.
Q: Are there genres you really struggle with?
MS: You know, subtlety with stop-motion animation doesn't work as well as we'd like. We find that, because we are playing with toys, the bigger and grander the gestures, the funnier it plays out. In dramatic movies, it's just harder to do subtle humor.
Q: Do you ever hate sketches that go on the air?
MS: I would say that, for myself, Seth [Green], Tom [Root], and Doug, each of us hates about 25 percent of the sketches, just because they can get in with a three-to-one vote. That Mario Kart one that won us the Emmy? Seth hates that sketch. He doesn't get Mario Kart. He doesn't find it funny — it just boils down to that.
Q: Would you ever consider lengthening the show to a full half-hour?
MS: The amount of work that would go into that would probably make our brains explode.
DG: I really respect our animators, because it's a very long, slow process. [Producer] Tom Root once animated a two-second shot of a guy turning around — and it took him all day.
Read More