Jane Russell and Jayne Mansfield, the Busty Bad Girls of the West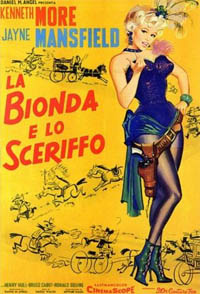 Just like the Bible and politics, Westerns like to stick to absolutes. One in particular: The Role of Woman. You're either a good girl (a devoted wife) or a bad one (a brash harlot). And as you might guess, sexpots like Jane Russell and Jayne Mansfield bypassed the gentility of crocheting mothers and blushing brides-to-be for an independence that counted beauty as its source of power as well its currency.
Who can forget Jane Russell's busty Rio McDonald in The Outlaw ? Supported by a Howard Hughes-designed bra (or, according to some sources,
nothing at all), Russell's sexy vixen generated so much heat that the picture didn't receive wide release until years
later — when a suitably anxious audience turned the hothouse drama
into a hit.
Not surprisingly, humor was frequently used as a sedative for
these actresses' sizzling sexuality. Russell later played Bob Hope's eye-candy
in the comedy Son of Paleface .
Frank Tashlin, who directed that film, did similar work for Jayne Mansfield in The Girl Can't Help It and it wasn't long before Mansfield herself hit the trail in The Sheriff of Fractured Jaw. Like Russell, Mansfield wears the britches and calls the shots, schooling a cityslicker (Kenneth More) in the untamed West. If she's at the head of the class, who wouldn't want to be teacher's pet?
For a complete schedule of The Sheriff of Fractured Jaw airing on AMC, click here.
Read More