Imagine, for a Moment, That Cronenberg Didn't Direct The Fly Remake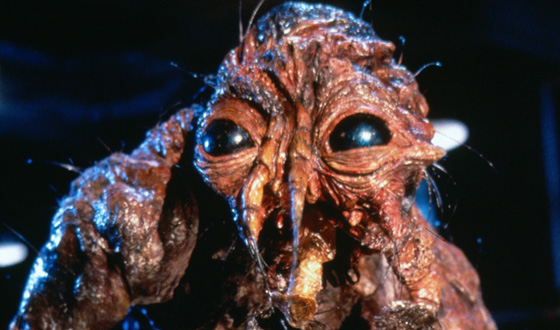 We've previously told you how Escape from New York is practically the Kevin Bacon of big screen science fiction with all its six degrees of separation. Well, David Cronenberg's The Fly is another nexus of scifi connections, although this time they're directorial and behind-the-scenes.
Tim Burton: Before The Fly remake, while Cronenberg was off working on Total Recall, who was the next choice for director? None other than Burton, who at the time had captured the attention of the movie industry with his short films like Frankenweenie. Though the auteur was eventually passed over, he did go on to direct a few scifi staples: Some Batman movies, Mars Attacks , and a remake of Planet of the Apes .
David Lynch: Lynch was also approached about directing The Fly, but he turned it down, just like he did that same year with Return of the Jedi . The reason for the latter? He felt it would be too much George Lucas, too little Lynch. (Hard to believe we almost had David Lynch's Return of the Jedi!) Lynch ended up directing the epic Dune instead.
David Cronenberg: Initially, he couldn't direct The Fly because he was working on Total Recall . Yet Cronenburg's insistence on faithfully adapting the Philip K. Dick story, as well as casting William Hurt in the lead role led to Cronenberg leaving Recall, just in time to take helm The Fly.
For a full schedule of The Fly on AMC, click here.
And for more Fly fun facts, check out this SciFi Dept video.
Read More