Which Hollywood Couples Do You Admire?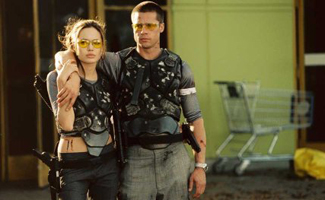 Paul Newman and Joanne Woodward were married for 50 years. Admirable for any couple, even those that aren't so good looking. The words of a friend (included in his obituary) help explain the secret of their success:
No one in his audience was ever privy to the tenderness and pride Paul had for Joanne and her talent. Watching him on the set watching her, from his seat by the camera, was to see a man transformed: his brave face taken all unawares, his lips parted in amazement, his eyes brimming with tears that never fell. It was a brief window into a man in perpetual love.
What's not to love about Newman and Woodward individually and the life they built together? They set a good example but are their any younger couples following in their footsteps. Brangelina? TomKat? The assumption is that movie star marriages aren't going to make it.
"The thing about careers is some go up and some go down," says Shootout co-host
Peter Bart. "It requires, I would imagine, a great deal of patience for
someone who is on an ego trip and having mind-bending success to be
married to somebody who, frankly, is doing lousy." Co-host Peter Guber
agrees, "You have to be empathetic when two people are in the same
business and the phone is ringing for one and not the other."
Michael Douglas and Catherine Zeta-Jones have been together now for
seven years and Douglas thinks the disparity in their ages helped them
in that regard: "I said, 'You're in your prime honey. You figure it
out. I'll work around you.' " But sometimes, it's the success that
takes a toll on the partnership. "If you're never together you can't
build a home," says Ethan Hawke. "So both parts can't be moving." He
and Uma Thurman were married from 1998 to 2004.
"I have a special empathy for couples like Julie Andrews and Blake
Edwards," explains Bart. "Blake directed Julie in some pictures which
were just god awful and their marriage, their relationship, survived."
It's easy to survive the triumphs. Not so easy, he says, to survive the
debacles. "When a couple does stick together, over many decades,
through both, that's to be complimented."
Some of the couples that have stuck it out:
Danny DeVito and Rhea Perlman (26 years)
Tom Hanks and Rita Wilson (20 years)
Kevin Kline and Phoebe Cates (19 years)
Warren Beatty and Annette Bening (16 years)
What Hollywood couple do you most admire? Comments open below.
Read More