Daily Scan for 10.15.08 – Ridley Fights Forever War, PCs Get Addicted to Frak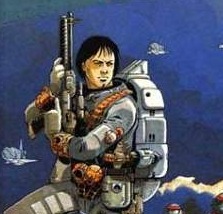 • A wonderfully bad-ass Battlestar Galactica computer has us in an all-out geek drool.
•Ridley Scott is set to adapt The Forever War. Who wants to bet Russell Crowe will play Mandella, age be damned?
• Steampunk Princess Leia is a rather weak entry in the steampunkification of Star Wars, but interesting all the same.
• Yes, indeedy: evidence is piling up that the Hulk will be the big green baddie of the Avengers movie.
• SF Signal posts a fantastic conversation between Orson Welles and H.G. Wells. I think my head just exploded.
• The '80s British series V will get the BSG reboot treatment. Hey, it worked for Bionic Woman and Knight Rider, right?
Read More