Daily Scan: 10.31.08 – David Tennant Officially Quits Who, Celebrate Mexican SciFi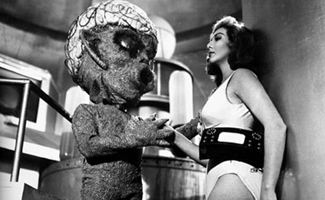 • There's a full The Day the Earth Stood Still trailer out. Think nothing of this green-friendly update, though Jon Hamm's presence might woo me.
• David Tennant officially quits Doctor Who, his run ending at the end of 2009. It's basically been known for months that he was leaving.
• Headline of the day: The Mexican Beauty Queen Who Captures Alien Monsters for Fun
• David X. Cohen seems pretty convinced Futurama will continue after Bender's Game.
• Empire recreates a classic Star Trek photo with the new cast. Frankly, it's not very good… its clearly just Quinto and Pine superimposed together. There's none of the huddled closeness of the original pic.
Read More