Daily Scan: 10.28.08 – The Colorful Surprises in Early Star Trek Comics, Stephen Hawking Is Retiring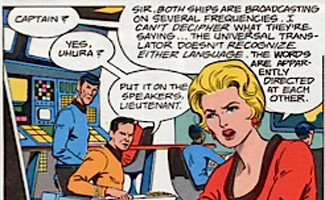 • Hey, remember when Mr. Sulu was black and Uhura was blonde? Good times.
• Weird Tales gets a gorgeous online face lift.
• Every boy needs a killer tentacled robot… T-shirt.
• What do the guts of Godzilla and Gamera look like?
• Kevin Smith uses the disturbing word reboot to describe the new Star Trek movie.
• Stephen Hawking is retiring, although I doubt you can stop the man from thinking, writing and working.
• SF Signal posts some great videos of the ultimate scifi superfan, Forrest J. Ackerman.
• They Saved Hitler's Brain is getting a musical makeover.
• io9 posts an excellent list of posthumously published science fiction.
Read More