Daily Scan: 10.17.08 – V Creator Not Happy About the Reboot, The Road Gets Pushed Down the Road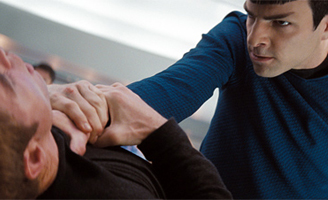 • io9 posts a triviagasm near and dear to my heart: a compendium of the best head transplants in science fiction.
• The creator of the original V is none too happy about the reboot.
• First Showing has a gallery of new Star Trek XI images… the first real movie images we've seen so far. Almost everyone looks right for their roles short of Chekhov and Kirk… Karl Urban is a particularly inspired choice for Bones, although Quinto looks more Spock-like out of costume than in it. The new bridge is insanely high-tech, chrome gleaming from every surface, which doesn't please me, but what else could we expect?
• The adaptation of Cormac McCarthy's post-apocalyptic masterpiece The Road has been pushed back until December. The feel good film of the holidays!
• Now this is the BSG I want to see: Frank Frazetta's.
Read More