Clerks Stoner Jason Mewes Breaks Silence on SciFi Porn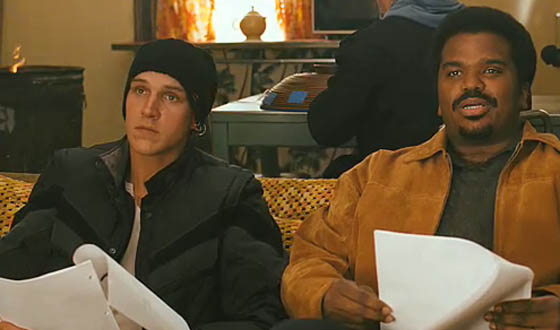 Clerks Stoner Jason Mewes Breaks Silence on SciFi Porn" width="560″/>

NJ's favorite loudmouth Jason Mewes cuts his hair and bares it all for Zack and Miri Make a Porno. He tells AMCtv.com about the movie's scifi roots and his hopes for a Bluntman and Chronic animated feature.
Q: Tell me about your role in Zack and Miri.
A: My character is a dude who doesn't really need to work — he has a trust fund, and he just hangs around. Then there's an open audition for a porno that Zack and Miri are holding, so he goes and auditions, and gets the part.
Q: Is it true you do a full-frontal in the film?
A: Yeah, but it wasn't that bad. At first I was a little hesitant because my family watches these movies. We did a couple takes where I did the full-frontal, then a couple takes where I'm covering up while I'm walking. But when we watched it, the covering up didn't work.
Q: The porno Zack and Miri come up with is called Star Whores.
A: I was Lube Skyballer. The costume designer came up with some really great stuff and the sets were really good too. There's a scene with the one-eyed monster in the garbage disposal from the first Star Wars where it was a big dildo with an eye on the end of it. We had dildo-sabers, they lit up and spun and all that. It was a lot of fun — like being on the Death Star with half-naked chicks.
Q: You're a big comic book fan. Did you ever have any input when Kevin was writing the Bluntman and Chronic comics?
A: I didn't, not at all. I wish I did, but it was all Kevin. They were great though. We have the costumes down at the comic book store in Red Bank and they're pretty dope. I'm hoping that Kevin will eventually make a Bluntman and Chronic animated feature.
Q: Animated? Not live action?
A: No. I think it would be more fun animated — we'd be able to get more across. There was a little piece of that I guess in Jay and Silent Bob Strike Back. But I think animated would be more fun for me. I'd rather go sit and do the voices than sit there while they try to CGI a Bongsaber fight.
Q: Do you think you'll ever return to Jay and Silent Bob?
A: I don't think so. I feel like Kevin is definitely done with them. He says he's done and I feel like he's going to stick to that. He doesn't want the fans to get sick of the characters.
Q: What was your favorite Jay movie?
A: Mallrats. It was the first legit movie we made. I mean, it was an actual studio film and it was the first one where we worked with a big casting crew and we had celebrities on set. I had never really even left New Jersey before that except to go to New York on the train. And then all of a sudden I'm getting picked up from the airport in a limo. It was pretty surreal for me.
Q: Kevin's now working on Red State. Do you think you'll have a part in it?
A: I think Kevin's using all different people for that one. He doesn't want to work with anyone he's worked with before. So as far as I know, I'm not in it. I can't complain. I'd like to be in it, but that's not the way he wants to go.
Q: What's your next project?
A: I just finished an independent movie called Silent But Deadly, where I play a mute killer. I had no dialogue. I would just go on set, change into my costume and throw rubber machetes and stuff around.
Q: No dialogue? Isn't that sacrilege for you?
A: No, I liked it. I was Silent Bob for once.
Read More