Web Stalker – Saw's Tobin Bell Believes You Have to Give 'Til It Hurts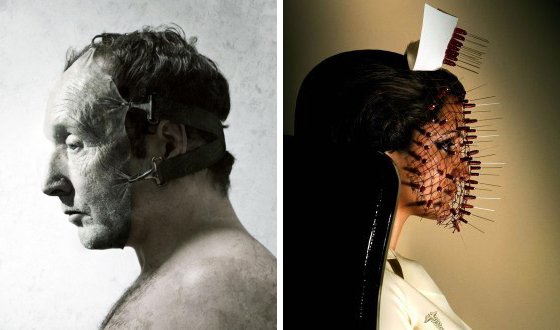 Saw's Tobin Bell Believes You Have to Give 'Til It Hurts" width="560″/>
When Tobin Bell appeared in the original Saw, he had no inkling that he'd would be the linchpin of a franchise — he was just glad to have one good scene. "The size of a part isn't what attracts me to it — it's more about its value in the story," says the actor, who has spent more than five years playing Jigsaw, the series' murderous mastermind.
"When I read the script for Saw I thought, 'This is essentially a three character play, like a Sam Shepard play," he explains. "Now, it's lovely to be in a play of any sort, but when you're in an ensemble piece with 25 other characters, it tends to water your part down a little. If you're in a Shepard play with three characters, everybody's character has a chance to play out."
Over the course of his career, Bell has developed a litmus
test when
considering scripts: "If you'll give me one good scene — one
well-written scene where all the beats play out rhythmically where
they're supposed to —  I'll take that before I'll take four weak
scenes that don't go anywhere." The scene that passed his test in the
first movie? "You've got a guy who lies in the middle of the floor for
the whole film, and doesn't get up till the end… that's unusual, and
there's enormous value in that. As I read the script, I did not
anticipate that moment, and when it happened I was astounded. I knew
that if they could shoot it well, it would be something we hadn't seen
before. And they really did!"
According to Bell, we can look forward to at least one scene in Saw V that's equally worthy. "If you can get a scene like that once or
twice a year — or in an entire career — then that's something to feel
good about." And feel good he does; while many demonize the Saw franchise
as a symbol of a trend in cinema toward violence for violence's sake,
Bell insists that the films deserve more credit. "If you can introduce
intelligence and delicacy amidst all of the mayhem that goes on in Saw
films, then you start to accomplish something," he says. "You can
accomplish as much in horror as in any other genre. It just has to be
there in the writing." he comments.
"The theme that was
introduced in the first movie — about appreciating your blessings, via
these people who have everything but appreciate nothing — that's an
interesting concept that all of us struggle with in some way," he
posits. "What is it about the human condition that makes us dwell on
negativity? That theme was developed further in Saw 2, and even further in Saw 3.
Is the whole movie about that? Of course not. But it's a vital part."
In his experience, audiences are grateful for that. "A group of ten or
twelve skateboarders came up to me on the street and said, 'Hey, you're
the man!' and I said, 'Yeah, I guess I am,'" Bell recalls, pushing them
to explain what about the movies appealed to them. "They said things
like, 'They're so real, and they're so crazy!' but then one little kid
poked his head in and said, 'And they teach you stuff. Like when you
asked the detective in the second one, "If you knew the date of your
own death, how would it change how you lived your life?' This is a
12-year-old kid! That concept resonated with him.'"
While parents might not prefer that kids got their life lessons from rated-R horror movies, the Saw franchise is not without its own good deeds. Each year the filmmakers launch a huge blood drive, appealing to audiences to "give 'til it hurts." The Saw IV drive has provided reserves that have helped save the lives of hundreds of thousands of people. Bell recently appeared in a PSA this year to remind fans that it's time for their annual bloodletting.
Despite the cruelty and bloodlust attributed to Jigsaw (aka John
Kramer), Bell has discovered that there is no shortage of qualities he
and his character have in common: "He's a mechanical engineer, a
scientist in a way; I have a master's degree in environmental science.
I'm very interested in fine details, and so is he. I read a lot, and so
does he. I'm very interested in the human condition, and I think he's
fascinated with the foibles of humanity."
The actor
believes that in this day and age, horror fans deserve better than a
one-note performance. "When I play this guy, I always try to go the
opposite way, to give him greater dimension. I think it's important to
try to get people to identify with his humanity. Look at Tommy Lee
Jones in The Executioner's Song or Marlon Brando One-Eyed Jacks. These guys kill multiple people, but you still get a window into their soul," observes Bell. "You feel something for them."
Read More