Web Stalker – Dowdle Brothers' Quarantine Is a Remake Owing Little to Its Source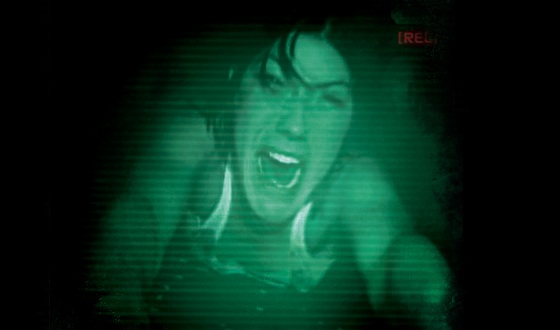 Quarantine merely because they know it was adapted from the Spanish film [Rec] might want to untwist their knickers until they've actually seen the film (which debuts Friday, October 10). After all, filmmakers John and Drew Dowdle were adapting a movie they'd never seen — because it hadn't even been made yet. " "We didn't work in conjunction
with [Rec]'s directors Jaume Balaguer and Paco Plaza…We were actually adapting the remake while they were still finishing their film," said John, the older of the two brothers. "The week we delivered our script to Screen Gems was the week that we finally watched [Rec]."
Actually seeing the original gave them a second creative boost. "Of course there were things they'd done so phenomenally, we'd have been stupid to pass thrm up. We tried to incorporated those things, but there were other things we wanted to amp up too. I think the people who loved the original will really love this one as well," says Dowdle. "When Quarantine was finished, we did screen it for the Spanish studio that did the original, and they just loved our version. I think that's a good sign!"
The brothers first burst onto the scene with the notorious Poughkeepsie Tapes (2007), a serial-killer pseudo-documentary that left Tribeca Film Festival audiences struggling to separate fact from fiction. As it turns out, moviegoers will have a say over whether that flick ever gets a wide release. "MGM is telling us that if Quarantine opens at $10 million or better, they'll release Poughkeepsie in early '09," Dowdle says. That's ironic, considering that it was Poughkeepsie that got them the Quarantine gig. Having noted their talent, Vertigo suggested the Dowdles for the pic — alongside a few other seriously established horror directors. "We thought we had very little chance at getting this job," he recalls. "But my brother and I work as a team, and since there's two of us, we figured we could out-work and out-prepare almost anybody." He and Drew worked around the clock for a week — during which they did much of the preproduction — returning to the studio with storyboards, rewrites, photos, and locations all mapped out. "Vertigo loved what we'd done, Screen Gems went crazy for it, and after that it just magically happened," John said.
Part of what inspired the movie was Dowdle's belief that some fears are uniquely American. "I think Americans are more scared of their own government," he observes. "That's one thing we tried to amplify in our version: not just the threat that's inside the building, but the threat from outside — our own people, who are willing to do whatever it takes to keep us inside. I think the Spanish have a more casual attitude toward rebellion: Over there, it's like, 'Oh, shut up, authority!'"
The studio was entirely behind their approach in regards to casting as well as content. "There's nothing worse than seeing the PG-13 moniker, and then mainstream-looking Barbie and Ken dolls. You instantly think, 'Ugh, this is gonna suck,'" laughs John. "The studio understood completely — they said, 'We don't want to see this movie if it's not R-rated.'" The Dowdle brothers' next project is The Coup, which tells the story of an American family trapped in Cambodia during a violent uprising. "It's one part horror, one part thriller," says John. Let's hope the next flick returns him to the good graces of the Department of Homeland Security.
Read More