Someone Please Carve Tommy Lee Jones on a Mount Rushmore for Actors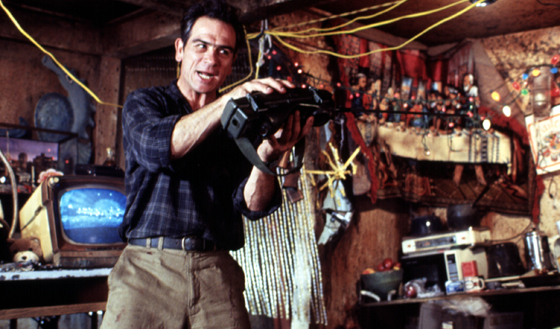 As moviegoers, our first encounter with Tommy Lee Jones was as one of Ryan O'Neal's poker playing college buddies in 1970's Love Story . The heyday of its stars, O'Neal and Ali MacGraw have long since faded; ironically, the film's real significance may be that it serves as the film debut of Jones, who winced when the subject was brought up at a recent career tribute.
That Tommy Lee Jones has managed to chalk up a remarkable 40-year acting career really shouldn't come as too much of a surprise when you consider how smart his choices have been. This is not someone who has ever tried to play the "movie star" game. Some of the unsympathetic roles he has done have actually turned him into a kind of anti-star, one who suffers no fools.
The time has come to anoint Tommy Lee Jones not only as one of the finest contemporary actors working in movies, but perhaps as the only one that deserves membership in the same club as icons like Gary Cooper, Henry Fonda and Spencer Tracy. This comparison seems apt especially considering his last three major performances, a triple play that any actor would kill for, but most never achieve. As Pete Perkins in The Three Burials of Melquiades Estrada , Sheriff Ed Tom Bell in No Country for Old Men and Hank Deerfield in In the Valley of Elah , Jones could not be caught acting, not even for a moment. In quiet, measured ways he recalls the brilliant, often unnoticed, minimalist style that Cooper and Fonda in particular were able to convey so easily for past generations.
It's clearly something his colleagues recognize, even if the public
doesn't run out and plunk down ten bucks every time a Tommy Lee Jones
film opens. He won a surprise Best Actor Oscar nomination (his first in
the leading category) for Elah, which flopped at the box
office. But his fellow actors clearly saw in Jones' work the kind of
honest, no-frills performance that doesn't call attention to itself in
any way except as a total embodiment of a once-proud American starting
to question his country for the first time.
As Sheriff Bell in the dark No Country, he represented anyone
ever caught up in events beyond their control; a man who slowly begins
to discover a new kind of evil overwhelming the forces of good. And in Three Burials,
he skillfully directed himself into an understated portrayal of a man
who sets out on a journey to bring a dignified end for his friend and
moral redemption for himself. Again, a man of few words who still
manages to convey the emotional upheaval he is experiencing — it's the
essence of great screen acting.
That Jones has hit his stride after reaching the age of 60 is, as
with Clint Eastwood, proof that some actors still have it even when
they become eligible for Social Security. Of course, Jones has always
had "it." Early on, there was his portrayal of convicted killer Gary
Gilmore for which he won an Emmy in 1982, his performance as Loretta
Lynn's loyal husband Mooney (one of his favorite roles) in Coal Miner's Daughter (1980), the not-so-sympathetic Ty Cobb in Cobb and, of course, his Oscar nominated turn as Clay Shaw in Oliver Stone's JFK .
His well-deserved and rightly praised Oscar winning supporting role as
U.S. Marshal Samuel Gerard on the trail of Harrison Ford's The Fugitive was impossibly original, considering it was based on a character from a television series.
Even in his "box office" hits — as the terrorist villain opposite Steven Seagal in Under Siege , as Two Face in Batman Forever or paired with Will Smith as one of the Men in Black , Jones manages to create three dimensional characters that somehow trump all the gunfire and CGI effects on display.
In the Mount Rushmore of actors whose filmography represents the
American spirit, good and bad, complicated and confused, exciting and
enduring, carve out a spot for Tommy Lee Jones. He's earned it.
You can see Tommy Lee Jones in action in Blown Away. For a full schedule of the movie on AMC, click here.
Read More