The Story Behind The Flesh Eaters Taps Into Nazi Nonsense and Eco Nightmares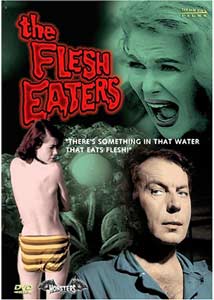 What lengths wouldn't those crazy Nazis go to in order to dominate, degrade, and flat-out complicate the rest of the world? Whether they're opening portals to galactic nether-regions a la Hellboy or sipping from the wrong goblet in The Last Crusade, it seems that history's ultimate bad guys have evolved into something as silly as they were evil. As far-fetched Nazi nightmares go, the 1964 cult classic The Flesh Eaters
is right up there with the best of them.
The title might conjure up an image of cannibalism but in fact, it refers to micro-organisms designed by a
Nazi scientist hoping to do to humans what sunlight
does to Gremlins. This storyline
was supposedly inspired when screenwriter Arnold Drake heard about a red tide
killing millions of fish on the southeast seaboard.
If you didn't know, a red tide is
essentially a widespread blossoming of algae that occurs when the
water's chemistry changes suddenly. Usually it doesn't do
much to humans other than keep them out of seafood restaurants for a
while. But times are changing.
A scenario like that depicted in The Flesh Eaters has a greater chance of accidentally coming
true than a lot of other creature features, for sure. As pollution
accumulates in the ocean, certain icky species wind up reproducing at a
breakneck pace. Green algae may not be able to dissolve human tissue,
but it certainly almost did smother the 2008 Olympic Games. Less
than a month before water events started, emergency troops removed 170,000 tons of
the foul stuff from Qingdao's beaches. If that's not gross enough,
certain parts of the Pacific have become so packed with jellyfish that Japan has begun exploring
ways to harvest their secretions for
commercial use. Clearly we don't diabolical overlords to design wicked plagues to inflict upon the rest of us. We're
perfectly capable of inflicting them on ourselves!
For a full schedule of The Flesh Eaters on AMC, click here.
Read More